Christopher Gorman '14 Honored with Writing Award
Posted By Kevin R. Johnson, Nov 30, 2012
I was pleased to attend the awards ceremony for the CEB Award for Excellence in Legal Research and Writing on Wednesday. The award is the results of an annual competition at King Hall sponsored by Continuing Education of the Bar, California (CEB), a nonprofit organization of the California State Bar Association and the University of California.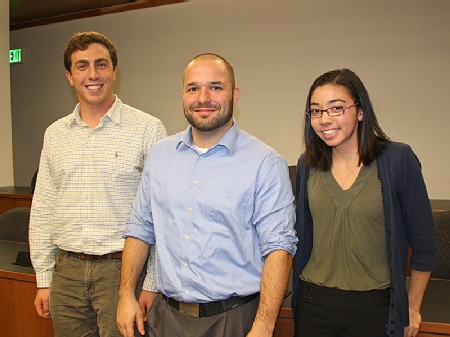 Finalists Clausner, Gorman, and Tanimura. (Fourth finalist Bowman couldn't make it to the event.)
This year's finalists were second-year students Ronny Clausner, Christopher Gorman, Erin Tanimura, and Mary Molly Bowman (not pictured). The four were chosen by their professors for having submitted the best brief in their section of the Law School's first-year Legal Research and Writing Course.
The winner was Christopher Gorman, who receives a spiffy certificate and $2500 cash prize!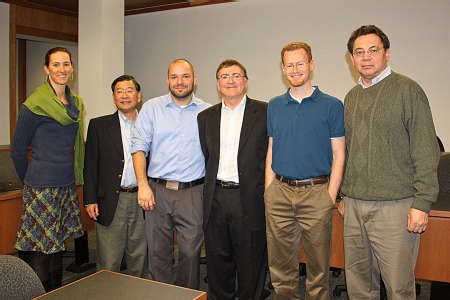 (L to R) Prof. Barbara Miltner, Prof. Clay Tanaka, CEB award winner Christopher Gorman '14, Prof. Larry Green, Prof. Angelo DeSantis, and me
Congratulations to Christopher and all the finalists!