Capitol Reception 2011
Posted By Kevin R. Johnson, Sep 16, 2011
Last week, the Law School hosted its annual Capitol Reception for alumni, faculty, and the first-year class.  It's always an excellent opportunity for students to network with legal professionals and learn about law practice in the Sacramento area.
The event included a tour of the State Capitol and presentation by alums Judge Larry Brown '89 and Kara Ueda '00 as well as LSA President Rabia Paracha.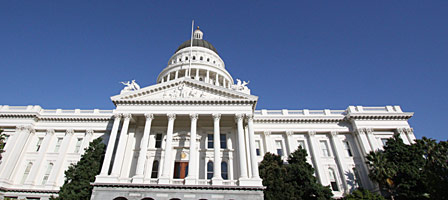 Exterior shot of the Capitol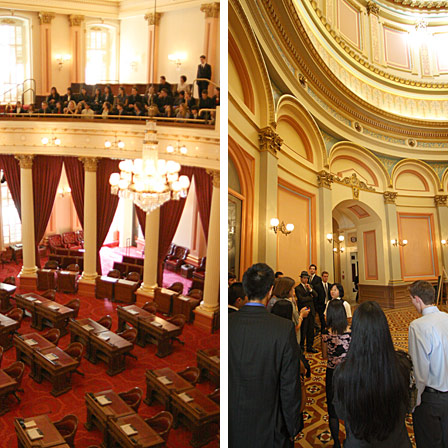 State Senate chambers and Capitol Rotunda

The 1Ls took a class photo on the Capitol steps.
Things wrapped up with a reception at the Sheraton Grand.  The turnout was amazing – about 250 attendees!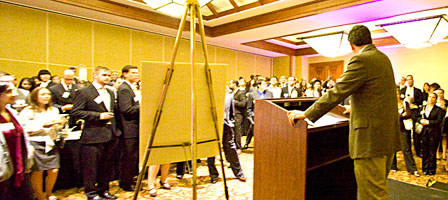 Here I am thanking our attendees for joining our great event!
Alumni Board members Tom Stallard '75, Carol Livingston '80, Kelly Borelli '92, Melissa Jones '99, Steve Boutin '72, and Judge Judy Hersher '84 were there.  Faculty members Vik Amar, Rick Frank, Carlton Larson, Peter Lee, Lisa Pruitt, and Rex Perschbacher were in attendance.
I enjoyed catching up with a number of alumni, including Dian Vorters '97 and Kori Tomlin '98.  Bob Barton '88, the new inspector general for the state was there as well, and he met a lot of our students.  It was also great to see adjunct professor John McKinsey '99 there.
One member of the class of 2014 lamented in jest on Facebook that the reception that the reception conflicted with the Saints/Packers season opener and hoped that "Dean Johnson would reschedule the game."
The first year students were amazingly good at collecting five business cards each, a networking assignment that I gave the Class.  Tom Stallard told me later that he handed out 40 cards!
Thanks to our sponsors!!!
Platinum:
Locke Lord Bissell & Liddell LLP
Gold:
Greenberg Traurig LLP
Silver:
Olson Hagel & Fishburn LLP
Orrick Herrington & Sutcliffe LLP
Bronze:
Best Best & Krieger
Boutin Jones Inc.
California Business Properties Association
Ellison, Schneider & Harris
Porter Scott
Remy,Thomas, Moose & Manley LLP
Stoel Rives LLP
Wilke, Fleury, Hoffelt, Gould & Birney LLP