California Court of Appeal Reception
Posted By Kevin R. Johnson, Oct 2, 2013
I recently attended a reception at the newly renovated courthouse of the California Court of Appeal, Third Appellate District. It was a spectacular evening for an outdoor reception in front of the courthouse and a short distance from the Capitol Building. Hundreds of appellate justices, presiding judges from superior courts throughout the state, court executive officers, trial court judges, and attorneys were in attendance. A good friend of UC Davis School of Law, Presiding Justice Vance Raye gave me, Judge Frank Damrell (Retired), and others a special tour of the beautiful new building before the formal program.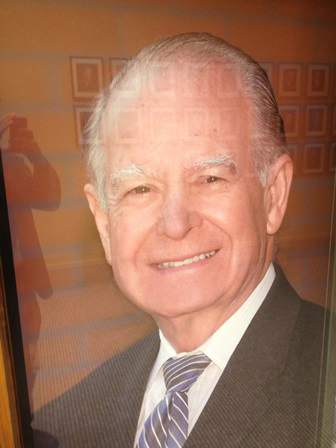 I snapped this shot of Professor Reynoso's portrait in the courthouse.
Among the pictures in the corridors of the building were Professor Emeritus Cruz Reynoso, a Third District Justice before his elevation to the California Supreme Court, and Chief Justice Tani Cantil Sakauye, '84 (who was in attendance at the reception), who also sat on the Third District. Many UC Davis alums were in attendance, including Justice Louis Mauro '87, Alumni Board member Judge Stacey Boulware Eurie '95, Judge Larry Brown '89, Clara Levers '03, Carol Livingston '80, Charity Kenyon '77, and Tom Stallard '75. I was also able to say hello to some dear friends of King Hall, including Judge Emily Vasquez, Ralph Lightstone, Judge Lisa Halko, and many others.
Justice Kathleen Butz '81 organized the grand event and thanked, among others, Associate Dean and Professor of Law Vikram Amar for serving on the organizing committee.