Breakfast at Airbnb
Posted By Madhavi Sunder, Apr 14, 2017
This week, I took 25 Innovation Law students on a class field trip to San Francisco to meet King Hall alums working in-house at some of the nation's top technology companies: Airbnb, Square and Uber.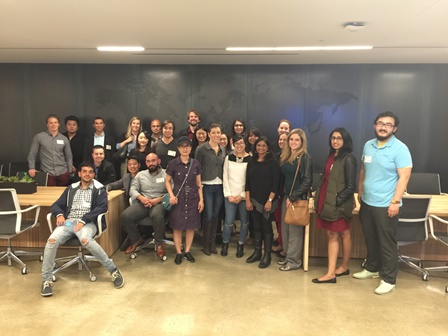 We began with breakfast at Airbnb with Senior IP & Marketing Counsel Alica del Valle '06 and two of her colleagues. They toured us around their gorgeous, cutting edge offices and spoke about the values that attracted them to the company.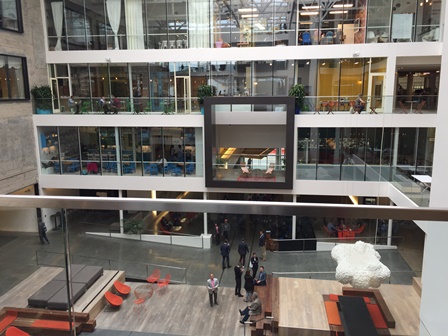 Airbnb's San Francisco headquarters. Look at this space!
Airbnb was conceived in 2007, when the company's founders, Brian Chesky and Joe Gebbia, two recent graduates of the Rhode Island School of Design, had the idea of renting out air mattresses in their living room to help pay the rent on their San Francisco apartment. A year later they teamed with an engineer, Nathan Blecharczyk, and launched a website called AirBed & Breakfast. To help fund the site, the founders created special edition breakfast cereals, with presidential candidates Barack Obama and John McCain as the inspiration for "Obama O's" and "Cap'n McCains." In two months they sold 800 boxes of cereal for $40 each, generating $30,000 for the company's seed money. Less than a decade later, the company is the largest accommodations provider in the world worth $31 billion, with over 3,000,000 lodging listings in 65,000 cities and 191 countries.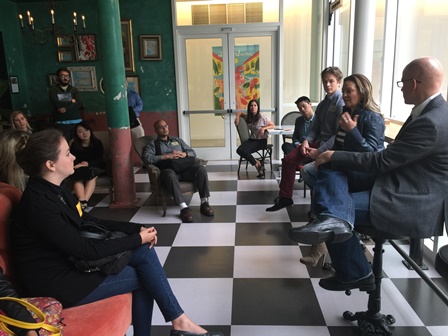 Alica del Valle '06 discusses her job at Airbnb.
Airbnb did not exist when Alica graduated from King Hall. We were inspired hearing about the high flying legal work Alica and her colleagues engage in daily, and about the interesting career paths that led them here. We were equally in awe of the gorgeous design of the Airbnb offices, which is a pioneer model of a 21st century workplace. The 2100 employees do not have individual offices ("you belong anywhere"), but rather, work in "neighborhoods" and meet in small groups in gorgeously decorated spaces (rooms, tents, and even a trailer home) that have been designed to replicate Airbnb properties around the world.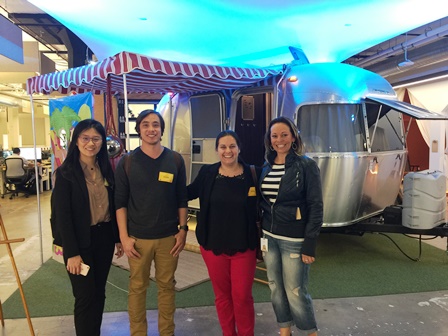 Another shot inside the offices of Airbnb, where workspaces resemble Airbnb rentals
From there we went to visit the offices of Square at 1455 Market Street, where we were met by Kirupa Pushparaj, Head Counsel for Intellectual Property (Kirupa is also a visiting lecturer at King Hall teaching Patent Prosecution this semester). We were joined by King Hall alums Romi Akpala '06 and Jeff Osofsky '09, and two other in-house counsel, and treated to a tour and lunch. Our hosts spoke about product counseling, describing their work advising design teams from inception to production and sales.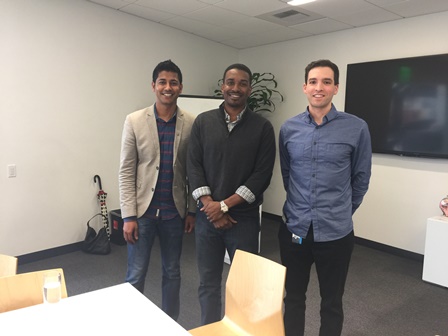 Attorneys Kirupa Pushparaj, Romi Akpala '06, and Jeff Osofsky '09 at Square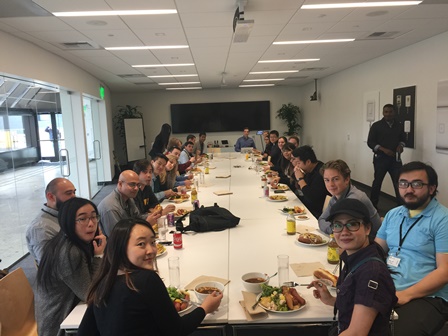 Lunch at Square

Finally, we moved to another floor in the same building to meet with Uber in-house Senior Counsel Tiffany Bui LeTourneau '11 and Senior Counsel Sarah Fenn '07. Tiffany and Sarah discussed their roles as senior regulatory counsel, sharing with us some of the considerations that come into play when working on a product or technology that either has not yet been regulated, or does not have a clearly applicable body of law. Many of the students in my seminar are writing papers on this topic – and a handful are writing on regulations affecting driverless cars and Uber, in particular -- so they were delighted to have this opportunity to ask further questions of our hosts.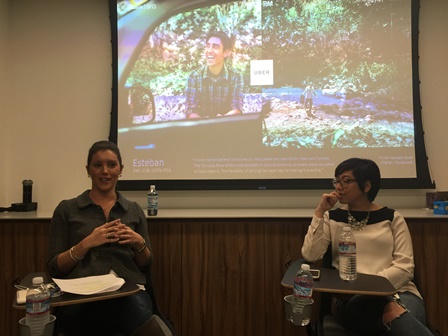 Attorneys Sarah Fenn '07 and Tiffany Bui LeTourneau '11 at Uber
This was my first class "field trip" in 18 years of teaching—I was struck by how valuable of an experience it is to see lawyers in the exciting new workplaces of the 21st century, and to hear, in particular, from alumni firsthand about the variety of challenges they face. I was particularly proud to see the incredible careers our alums have forged, and the generosity with which they sought to share their work and experiences and advice with our King Hall students. I look forward to seeing the numbers of King Hall grads in the world's top innovation companies grow!