BLJ Symposium: Corporate Social Responsibility
Posted By Kevin R. Johnson, Nov 21, 2013
The UC Davis Business Law Journal held a symposium today, titled "Challenges in Achieving Corporate Social Responsibility."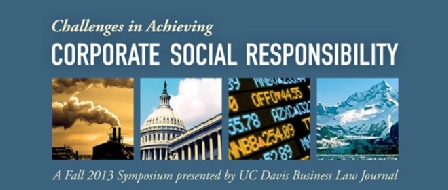 I had the privilege of welcoming the professors, lawyers, and students in attendance and introduce the keynote speaker Joe "Chip" Pitts of Stanford Law School. Former chair of Amnesty International USA, Professor Pitts talked about the importance of corporate social responsibility. King Hall's own Professor Afra Afsharipour, a moderator and presenter, helped advise the Journal in conceptualizing and organizing the conference. King Hall Professors Thomas Joo, Lesley McAllister, and Evelyn Lewis all moderated panels of leading lawyers and professors from across the United States.
Congratulations to the Business Law Journal students for organizing an exciting and important event!