APALSA Banquet 2014
Posted By Kevin R. Johnson, Apr 13, 2014
The Asian Pacific American Law Students Association (APALSA) at King Hall recently held its annual banquet. Because I was attending other law school events on the same day (It was a busy King Hall weekend!), I was unable to go. However, Senior Assistant Dean for Student Affairs Hollis Kulwin attended and had a wonderful time. She provided this recap and photos for the Dean's Blog.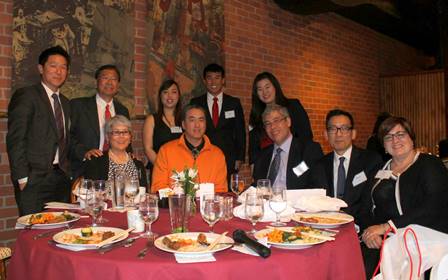 Dean Kulwin (right) with professors, students, and keynote speaker Robert Fong '84 (center)
On April 5, I attended the 3rd Annual APALSA (Asian Pacific American Law Student Association) Banquet. It was a wonderful evening! Along with lots of King Hall students, a number of members of the Sacramento-area bench and bar attended, including Asian/Pacific Bar Association of Sacramento (ABAS) President Joshua Kaizuka and former King Hall Alumni Board president Kara Ueda '00. At dinner, I sat with, among others, King Hall Professors Thomas Joo (the APALSA faculty advisor), Jack Chin and Clayton Tanaka. Professor Tanaka introduced the evening's terrific guest speaker, Robert King Fong '84. Mr. Fong, a former Vice Mayor and member of the Sacramento City Council (and former ABAS president), delivered an excellent speech about diversity in leadership, the power of the Asian Pacific Islander community and API law students' ability to effectuate future change. Professor Joo announced the winners of the Asian Pacific Islander Public Interest Grant: Sylvia (Hsin-Ling) Tsai '16 and Cynthia Cheung '16. Both will work this summer at Legal Services of Northern California, using their bilingual skills to serve the Chinese speaking community. Erin Hong '15 and Steven Vong '16 congratulated the Class of 2014 on their upcoming graduation, while Jocelyn Koo '15 and Justin Lee '15 introduced the 2014-2015 APALSA board. Next year's APALSA will be in great hands (just like this year's)! Many thanks to APALSA for putting on such a great event!!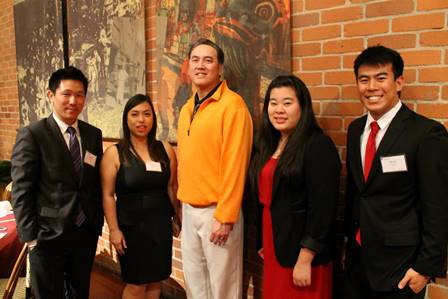 Event attendees with keynote speaker Rob Fong (center)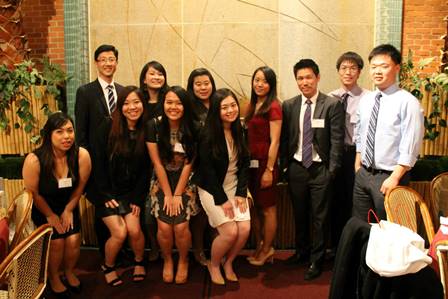 APALSA Board Members
Thanks to Dean Kulwin for attending the banquet and contributing a guest entry for the Dean's Blog! Thank you to Robert Fong '84 for being the keynote speaker. And congratulations, APALSA, on a successful banquet!