An Inspiring Legal Services of Northern California Meeting
Posted By Kevin R. Johnson, Apr 21, 2017
It is always an inspiration and a pleasure to meet with the leaders of Legal Services of Northern California, and this week's LSNC Board of Directors meeting was no exception.  I have been a member of the board since 1996, a part of the Executive Committee since 1998. At this week's meeting, I was proud to be elected to serve another term as the organization's President, a position I have held since 2003.
LSNC is Northern California's largest provider of free legal services to low-income clients, operating in 23 counties.  UC Davis School of Law has enjoyed a close relationship with LSNC that goes back to at least the 1990s, when Professor and Dean Emeritus Rex Perschbacher was on the Board of Directors.  Many of our alumni work or have worked for LSNC, including Amy Williams '05, LSNC's Deputy Director, Jennifer Gomez '12, who spoke to my Careers in the Law class recently, John Tan '10, and many others.  Gary Smith, LSNC's Executive Director, and Julie Rogado, Deputy Director, regularly teach public interest law classes at King Hall.
At the recent Board of Directors meeting, our alum Mariko Nakabayashi '06 (pictured below), who leads the Health Insurance Counseling and Advocacy Program (HICAP) at LSNC, reported on HICAP's Medicare advocacy and counseling.  It was energizing to hear her speak and learn about yet another King Hall alum who has put her legal education to work for the common good.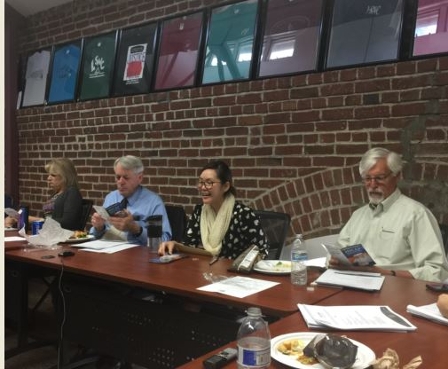 Mariko Nakabayashi '06 (center) addresses the meeting.
The Legal Services Corporation, the federal program that funds legal services organizations like LSNC, is on the cutting block — a subject I wrote about in an op-ed that was published in the Sacramento Bee. Hopefully, we will not lose this safety net for the nation's poor and working people.