An Achievement Award for Our Alum at Tesla
Posted By Kevin R. Johnson, Feb 17, 2017
This week I traveled to San Francisco to see King Hall alum Rew Ikazaki '87 receive the Distinguished Achievement Award from the UC Davis Graduate School of Management. Rew is Chief Counsel for Tesla, the car manufacturer, and previously worked at Trident Microsystems and Sun Microsystems.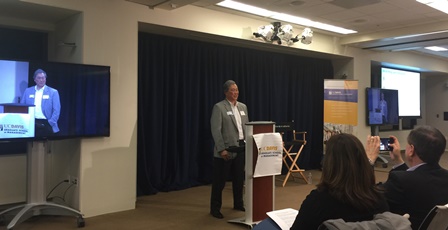 Rew received the award at the GSM's 14th Annual Peer-to-Pier Distinguished Speaker Event at Blue Shield of California's beautiful offices in the financial district in San Francisco.  It was a balmy evening in San Francisco and it was nice catching up with Rew and talking about the upcoming Tesla Model 3 automobile.
Rew mentioned that he enjoyed coming to his law class reunion last October, where he was able to catch up with classmate Professor Lisa Ikemoto.
It also was nice to see Jamie Kitano '09, another joint JD/MBA, at the event in the City by the Bay!