A True King Hall Saturday: Carr Competition and Reunions
Posted By Kevin R. Johnson, Oct 30, 2013
It was a true King Hall day last Saturday. The Trial Practice Honors Board, under the leadership of Elise Weinberg '14, held the intraschool Frances Carr Mock Trial Competition in the beautiful Robert Matsui Federal Courthouse in Sacramento. Judge Consuelo Callahan of the U.S. Court of Appeals for the Ninth Circuit, who was one of the judges, helped the students secure the courthouse for the competition. As the competitors and judges congregated in the rotunda of thecourthouse early Saturday morning, I welcomed and thanked the mock judges for volunteering their time and the students for their commitment to learning.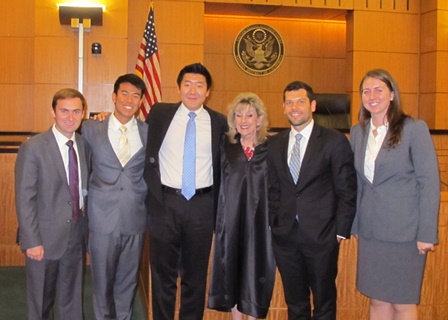 Miles Prince, Steven Vong, Michael Yun, Judge Callahan, Jeff Mendelman and Abby Wolf
Later that morning, I attended the King Hall reunions of the Classes of 1973, 1978, 1983, 1988, 1993, 1998, 2003, and 2008. We had a great turnout of more than 150 alums and had a wonderful lunch in the studio of the Robert and Margit Mondavi Performing Arts Center. Everyone seemed to have a great time catching up with classmates and professors. I was able to fill the alums in on recent developments at the school of law, including the great new faculty, wonderful students, and many new centers, clinics, and other academic programs. Gage Dungy '03, President of the Alumni Board, was celebrating his reunion and made a pitch to the alums to give back to King Hall. A founder of Young Alumni chapters in Los Angeles, Sacramento, and San Francisco, Jeff Osofsky '08 brought a large contingent of classmates back to Davis andspoke about the Class of 2008's effort to raise money to support student scholarships.


Scenes from the reunion
The lunch was followed by toursof the new-and-improved King Hall. The alums to a person were most impressed with the beautyofthe building improvements.
The day ended with each of the classes meeting for dinner and other festivities. Among other visits, I stopped by the Class of 1988 dinner at Sudwerk, which was organized by Robert Romero and Jeff Leacox, both whom cheered on their classmates to help their King Hall students out in these tough budgetary times.
Check out the reunion photo gallery here! Thanks to all who attended!