A Toast to Lesley McAllister
Posted By Madhavi Sunder, Jan 9, 2017
King Hall co-hosted with the University of San Diego School of Law "A Toast to Lesley McAllister" in San Francisco on January 6.  Professor McAllister is fighting a rare form of lung cancer.  To honor her and acknowledge her contribution to environmental law scholarship, the Center for Progressive Reform convened a forum of influential scholars who contributed to, are inspired by, and benefit from her work.
Some 60 scholars and colleagues from around the world attended the event. There was a great turnout of King Hall faculty. I saw Dean Kevin Johnson and Professors Brian Soucek, Thomas Joo, Lisa Pruitt, Angela Harris, Jack Chin, Carlton Larson, Peter Lee, Clay Tanaka, Rick Frank, Chris Elmendorf, Leticia Saucedo, and Darien Shanske.
Speakers included Lesley's dissertation advisor Robert Kagan, Professor Emeritus of Political Science and Law at the University of California, Berkeley; Northwestern Dean Dan Rodriguez, who was dean at the University of San Diego when Lesley was hired for her first teaching job; Lesley's former colleague from the University of San Diego Orly Lobel, and many of her co-authors and environmental law colleagues from around the world.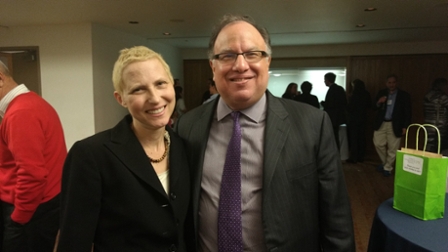 Lesley and Northwestern Law Dean Dan Rodriguez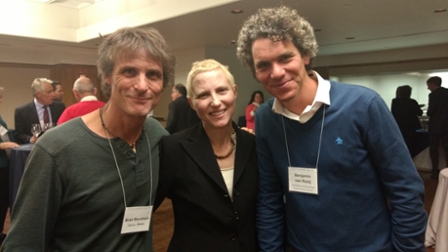 Lesley's brother Brad Barnhorn, Lesley, and her co-author Prof. Benjamin van Rooij of UC Irvine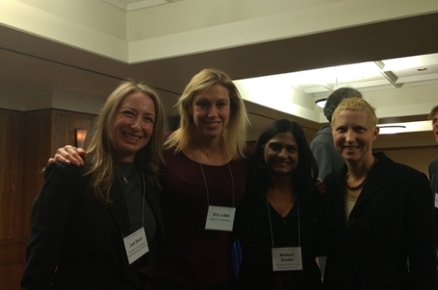 UC Hastings Professor Jodi Short, University of San Diego Professor Orly Lobel, me, and Lesley
Thanks to UC Hastings for hosting the celebration of Lesley's contributions to environmental law scholarship and the academy at large.
Here are the remarks I gave at the very start of the event to honor our dear colleague.
I feel truly honored to help introduce this Symposium celebrating the scholarship of my brilliant colleague at the UC Davis School of Law, Lesley McAllister.
Some who are here tonight have known and admired Lesley for many years, as an renowned environmental law scholar and beloved law teacher at the University of San Diego, where Lesley held the Stanley Legro chair in Environmental Law and also held an appointment at School of International Relations and Pacific Studies.
Those of us at UC Davis have only had the privilege of getting to know Lesley in the past few years, since she joined our faculty in 2013. I am grateful to the Center for Progressive Reform for organizing and hosting this event, where we can share our deep admiration and respect for a truly incredible woman, scholar, teacher, and colleague.
I feel privileged to know someone of Lesley's intellectual and personal merit.
The author of two books and dozens of articles and book chapters on a wide range of environmental law topics, from climate change to enforcement of environmental laws in the developing world, Lesley has had an impeccable academic career, earning every conceivable degree from an impressive cadre of academic institutions. After graduating with a degree in civil engineering and public policy from Princeton and a stint in the Peace Corps in Costa Rica (where she could deploy her ability to speak fluent Spanish), she earned a law degree from Stanford, followed by a Ph.D. from the University of California, Berkeley. A true Renaissance woman, this engineer/lawyer/doctor published her first monograph, MAKING LAW MATTER: ENVIRONMENTAL PROTECTION AND LEGAL INSTITUTIONS IN BRAZIL, with Stanford University Press in 2008. For this book Lesley took advantage of her fluency in yet another language, Portuguese, to study a novel new institution in Brazil which began successfully enforcing citizens' rights to a clean environment. The ever-committed scholar and environmental activist – and let's admit it, overachiever -- Lesley took advantage of a period of stable health this past semester to do further field research in Brazil and has begun writing a sequel to her book.
Lesley's expertise and passion in environmental law are incredibly broad, ranging from natural resources law, to food law, agricultural law, energy law, and property law.
Her capstone achievement, her monograph Making Law Matter, was reviewed widely and favorably, including in The Harvard Law Review. While most studies of environmental law enforcement have focused on industrialized nations, Lesley recognized early on that environmental issues are often global in nature, and has thus studied environmental law and legal institutions in other places, such as Brazil. Her focus on citizen enforcement by the Brazilian Ministrio Publico, which refashioned itself in the 1980s into a powerful defender of citizen rights in environmental protection, disability rights, consumer protection, and anticorruption, helped us understand environmental law as a social movement.
Ever evolving and innovating, more recently Lesley's teaching and scholarship has turned to other hot topics that make headlines, from food safety regulations to animal rights.
Last summer, while she was fighting debilitating pancreatitis, Lesley nonetheless steadfastly sought to create our law school's first food and agricultural law class in many years. Through sheer will, and her ability to work harder than anyone else, Lesley brought this much desired class to our campus and taught some 30 plus students in the subject this past term.
Lesley has always been ahead of her time in identifying cutting edge issues in environmental law and bringing them to her students. Before coming to UC Davis, she initiated the nation's first student law review on Global Warming.

As Associate Dean, I've seen first-hand Lesley's dedication to her students. Between grueling treatments and surgeries, she has steadfastly taught her first year students in property and her advanced students in a variety of environmental law topics. 
A teacher and advocate, Lesley has been forthright about her illness, even sharing her experiences with her classmates from Princeton in a cover story in the Princeton Alumni Magazine, and advocating at the California State Legislature for right to die legislation, emphasizing the right to die with dignity and on one's own terms, but never minimizing the pain of having to make such a choice.
I am also lucky to know Lesley as a mother, because our oldest children are in the same school and grade, and are friends. Over the past three years I have seen Lesley front and center at school talent shows, soccer games, open houses, and she has even come out to school board meetings. Can you tell – I am in awe of Lesley.
If all this were not enough, she is also an incredibly supportive colleague. She comes to every talk and law school event without fail. And I'm moved tonight to see our institution showing her love and support in return.
Tonight we are here to recognize a champion among us, who inspires us everyday with her wisdom and courage. Lesley, we are truly honored to be among your peers and friends, and again I'm grateful to have this opportunity to share with you how much you and your work mean to us.