A King Hall Student's Experience at USMBA
Posted By Kevin R. Johnson, Nov 24, 2009
Earlier this month, I spoke at the Annual Conference of the U.S.-Mexico Bar Association.  2L student Emilio Camacho was there and wrote this great essay about his experience.  The essay contains some good information about our wonderful International Law Programs!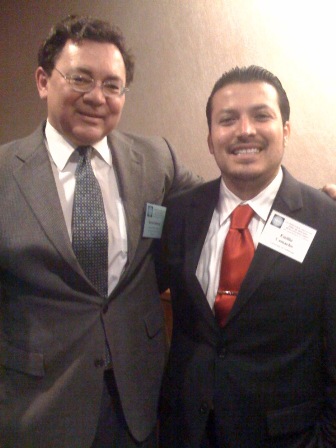 The "New Economy" and Law Students
By Emilio Camacho (UC Davis J.D., 2011)
The recent economic downturn has affected the legal profession and provided new challenges for law students.  As a second-year law student myself, I am deeply aware of the new challenges and uncertainties we face.  For this reason, students like me have begun to respond to these challenges by developing new networking and self-marketing skills and strategies.  My latest trip to San Diego is a good example.  I went to San Diego on November 11 and 12 to attend the 2009 Annual Conference of the U.S.-Mexico Bar Association (USMBA), something unusual for a law student.  At the conference, I networked with practicing attorneys and attended many interesting sessions, including a presentation on immigration law by our own UC Davis School of Law Dean and internationally recognized scholar on immigration law, Kevin R. Johnson.  
The USMBA is composed of lawyers from the U.S. and Mexico working together to create partnerships and educate each other.  Naturally, as a Latino student, I became interested in the group's mission and pursued one of the free student memberships available through King Hall's institutional membership in the USMBA.  The International Law Programs (ILP) at UC Davis School of Law, which provides many innovative programs for international attorneys to learn about U.S. law, initiated King Hall's membership in the USMBA.  ILP's Director, Beth Greenwood, offered me ILP sponsorship at the USMBA Annual Conference.  I also represented ILP's programs to the USMBA membership.  Through this arrangement I was able to attend the conference in San Diego at no cost to me.
This year's conference featured keynote speaker Michael W. Allman, president and CEO of Sempra Generation.  In addition to his session on developing a cross-border energy infrastructure, I attended presentations on immigration law (Dean Johnson), corporate restructuring, cross-border finance, litigation and arbitration, mergers and acquisitions, customs and trade, energy and the environment, family law, and real estate tax planning, all presented by experienced scholars and practitioners from the U.S. and Mexico.  After Dean Johnson's presentation, for which I had a front row seat, the Dean introduced me to several USMBA members, thereby facilitating my objectives: marketing myself, networking and learning about transnational law practice from top attorneys in the field.  As the only student at the conference, I was able to learn much from various attorneys.  For example, David Lopez, a presenter and friend of Dean Johnson, told me to be aware of the "new economy" because it is real and changing the practice of  law forever.  Mr. Lopez explained the new complexities of financial markets and transitional practice; he also explained the effects on legal professionals, and suggested skills that law students must recognize and develop in order to survive in the new practice.  Given the "new economy" I am thankful to Dean Johnson, ILP, USMBA, and David Lopez for their support.  It is nice to know that, even in this "new economy," law students have support, inspiration, and guidance.
For more information about the International Law Programs at UC Davis, visit www.law.ucdavis.edu/international.
For more information about the USMBA, visit http://www.usmexicobar.org/.