A Day with Michael Dukakis
Posted By Kevin R. Johnson, Feb 29, 2012
Former Massachusetts Governor Michael Dukakis, the 1988 Democratic nominee for President of the United States, was the featured speaker at the Chancellor's Colloquium on Monday.  As the moderator of the presentation, I spent the afternoon with him, which was an incredibly fun experience.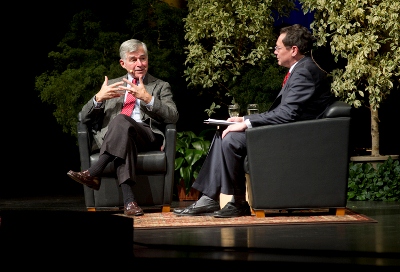 Moderating the discussion with former Governor Dukakis at the Chancellor's Colloquium.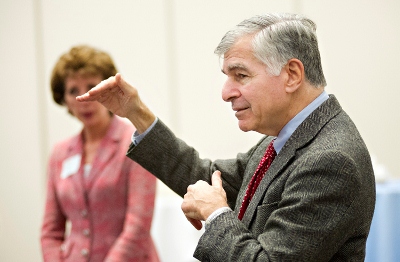 Dukakis with Chancellor Linda P.B. Katehi.
Before the talk, Associate Dean Vik Amar and I traveled to Sacramento with Dukakis so that he could talk with interns at the University of California Sacramento Center and be introduced on the floor of the California State Senate by UC Davis Law School alum Darrell Steinberg '84, President pro Tem of the Senate.  Senator Lois Wolk graciously introduced me and Dean Amar to the Senate as well.   Governor Dukakis talked with us about the Supreme Court, politics in Massachusetts, and the 1988 Presidential campaign. 
At his presentation in the Mondavi Center, Governor Dukakis, who's a Visiting Professor at UCLA, encouraged students to consider public service and answered a wide-ranging series of questions from health care to affirmative action to the Republican candidates for President.  View the video of his talk here: http://www.youtube.com/watch?v=qzYItH7iJ68.