A Busy King Hall Weekend
Posted By Kevin R. Johnson, Aug 2, 2010
I had a busy King Hall weekend.
On Friday from 5-6 p.m., I was interviewed on a KDVS radio show hosted by Ron Glick called "Speaking in Tongues" (http://www.kdvs.org/show-info/1352 from 5-6).  We talked about the nomination of the new Chief Justice of the California Supreme Court, the injunction preventing the core of Arizona's SB 1070 from going into effect, and my first book, "How Did You Get to Be Mexican? A White Brown Man's Search for Identity" (Temple University Press, 1999).
On Saturday, I watched the San Francisco Giants/Los Angeles Dodgers game at AT&T park with the Mexican Consul in Sacramento, Carlos González Gutiérrez.  King Hall has many ties with the Mexican consulate.  Our immigration law clinic and students collaborate with the office regularly (see the news story here), and  the consulate recently presented Professor Jim Smith with its prestigious Ohtli Award.
On Saturday night, our King Hall Outreach Program students attended the Sacramento River Cats game at Raley Field.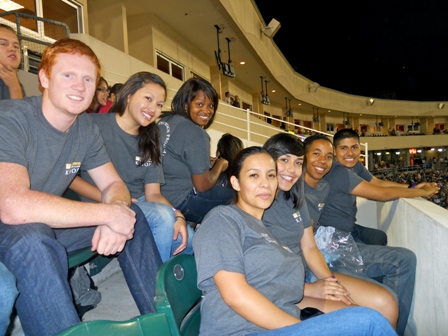 KHOP students having a great time at Raley Field.
I had the honor of throwing out the first pitch.  Strike one!!! The KHOP students cheered me on with a hearty and enthusiastic "UC Davis!"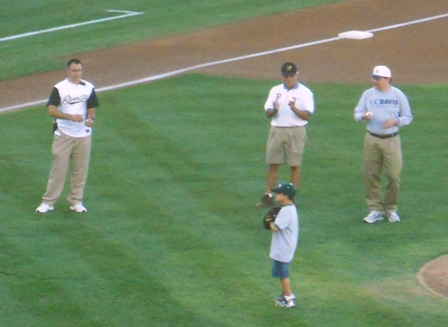 That's a Little League player in the foreground.  I'm on the right, sporting my UC Davis School of Law shirt.
Among those also in attendance were Associate Dean Vik Amar, Assistant Dean for Admissions and Enrollment Sharon Pinkney, Brigid Jimenez, and my son Tomas.  A great time was had by all!