Celebrating the Life and Academic Legacy of Professor Lesley McAllister
Posted By Kevin R. Johnson, May 28, 2018
Last year, the law faculty lost a part of the King Hall community, Professor Lesley McAllister, an influential environmental, energy, and natural resources law professor.  On May 15, the School of Law hosted a reception and program celebrating the life and academic legacy of Professor McAllister.
The event was hosted in conjunction with Environs to celebrate the publication of a Festschrift in honor of Professor McAllister. Copies of the publication were distributed at the event.
We were treated to a wonderful program of speakers, including:
Matt McKerley, Editor-in-Chief, Environs
Andrew McAllister, husband of Lesley McAllister
Madhavi Sunder, Senior Associate Dean for Academic Affairs and Daniel J. Dykstra Professor of Law
Richard M. Frank, Professor of Environmental Practice and Director, California Environmental Law and Policy Center
 Albert C. Lin, Professor of Law
Alice Kaswan, University of San Francisco, Professor of Law, Board of Directors, Center for Progressive Reform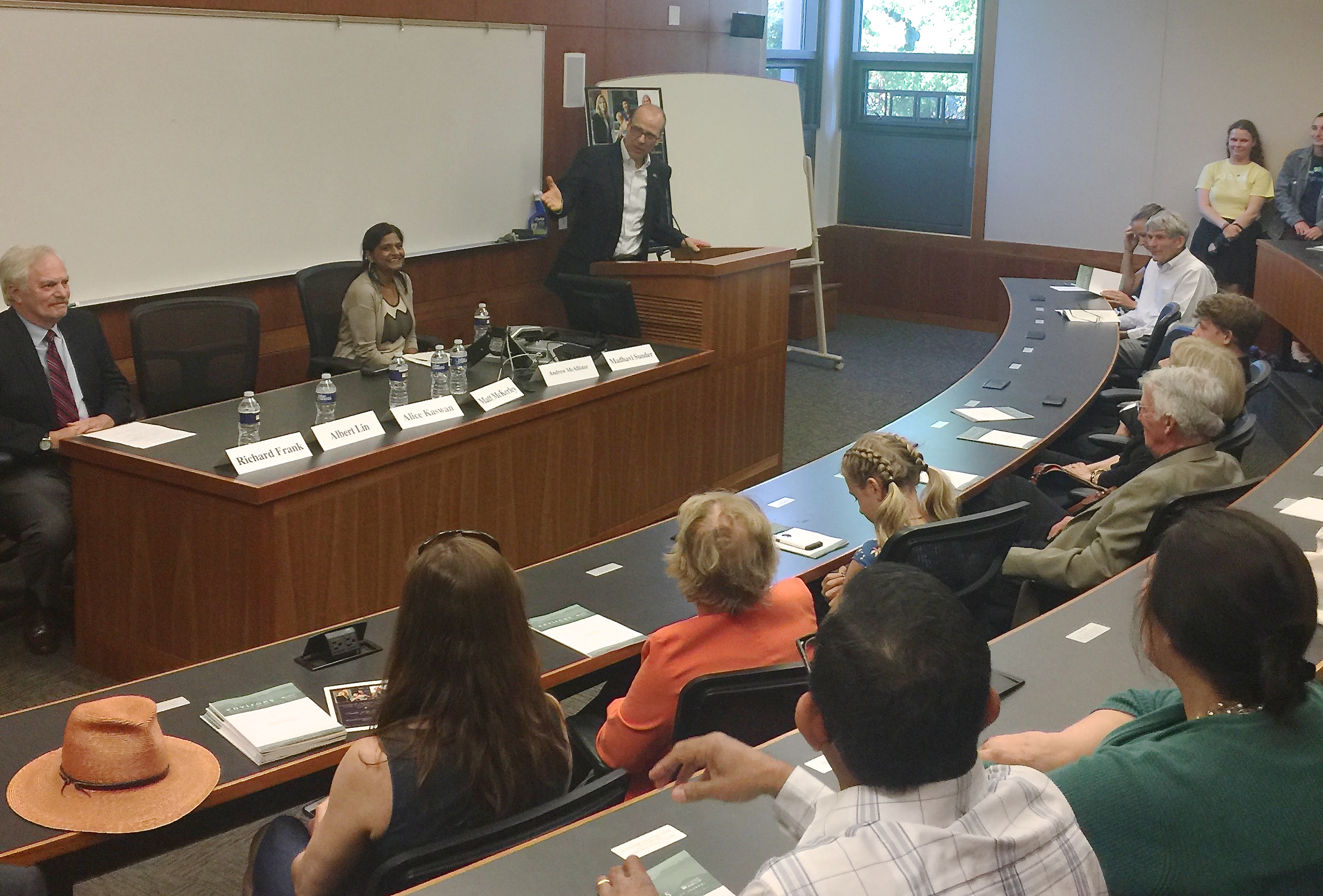 Andrew McAllister gives an introduction to begin the event
The event was attended by the parents of both Lesley and Andrew McAllister, as well as their two children. Andrew offered thanks to the King Hall community for its support for Lesley as well as offering her an intellectual and spiritual community. He also provided a wonderful tribute to Lesley.
Senior Associate Dean Madhavi Sunder spoke of Lesley's inspiration to all around her. Other environmental law colleagues, including Al Lin and Rick Frank, offered glowing tributes as well.
Environs, one of the nation's leading environmental law journals, published the Festschrift, a series of articles offering tributes to Lesley McAllister's scholarly legacy. It included commentary from scholars from around the world. The papers were presented at UC Hastings in January 2017 and Lesley was there to hear them.
Lesley McAllister joined the School of Law in 2013, just three months prior to her cancer diagnosis. She shared many details of her struggle with the disease in an article published in the Princeton Alumni Weekly, including her joy at being able to return to teaching following a 2014 surgery.
She earned a Bachelor of Science degree in civil engineering at Princeton in 1991, served in the Peace Corps in Costa Rica, then returned to school for a master's and Ph.D. from the Energy Resources Group at UC Berkeley, and Juris Doctor from Stanford.
She served on the faculty of the University of San Diego School of Law from 2005 to 2013, and, during that time, published Climate Change Law and Policy and Making Law Matter: Environmental Protection and Legal Institutions in Brazil, as well as numerous articles in leading law journals.