2016 Boutin Golf Tournament Benefitting KHLF
Posted By Kevin R. Johnson, Oct 12, 2016
The King Hall Legal Foundation (KHLF) held its Eighth Annual Steve Boutin Invitational Golf Tournament on a pleasant fall afternoon at Davis Municipal Golf Course.  The teams played a wonderful round with the proceeds going to a great cause -- public interest fellowships for law students!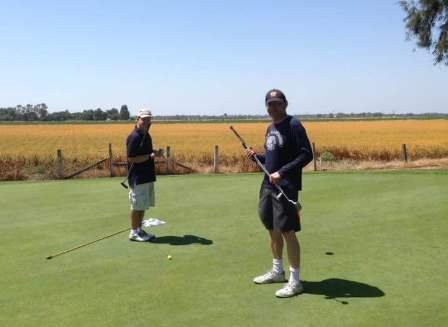 Dean Emeritus Rex Perschbacher and me
Dedicated King Hall alum Steve Boutin '72 welcomed the golfers, which included many alums, including current Alumni Board members John McKinsey '99, Robert Barton '88, and Alberto Roldan '92.  My team -- the "Pilsbacher Pros" -- included Dean Emeritus and Professor Rex Perschbacher (who tore up the links), 2L student Todd Singer (who made the team members feel good about their golf skills), and Tom Palacek (UC Davis B.A. '99), a member of the UC Davis Foundation Trustees who carried the foursome.  
Steve Boutin asked participants to play their hearts out for the Tournament's Man of the Year, Rex Perschbacher, a longtime supporter of KHLF and public interest law. For many years, Rex was a board member of Legal Services of Northern California and helped me land a position on the board.  A number of professors were in attendance, including Boutin Golf Tournament Executive Director Clay Tanaka, for whom the Tanaka Trophy (for the tournament winner) is named.  Steve Boutin's team won the Tanaka Trophy, but the results are currently under review by tournament officials.  Federal district court judge Troy Nunley led a most jovial foursome that might well have earned the coveted "Slowest Moving Foursome at the Refreshment Tent" Award.  I was unanimously selected for the coveted title of "Most Dangerous Golfer." There was a nice set of beers available for golfers, including a set of custom-crafted "Pilsbachers" in honor of Rex Perschbacher.
It was a great King Hall day for a great cause!  And a lot of fun.  Congratulations to the King Hall Legal Foundation for a job well-done.