2016 Asylum & Refugee Law National Moot Court Competition at UC Davis School of Law
Posted By Kevin R. Johnson, Mar 18, 2016
Last weekend, the UC Davis Moot Court Board hosted an asylum and refugee national moot court competition. This is one of two national asylum and refugee moot court competitions and our Moot Court Board takes it most seriously.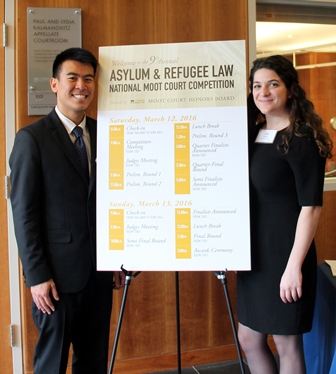 3Ls Steven Vong and Anita Barooni of the Moot Court Board
Teams from across the country took part in the competition.  I provided the welcome remarks. Professors Leticia Saucedo and Brian Soucek, two members of what I believe to be the strongest immigration law faculty in the country, graded briefs for the competition.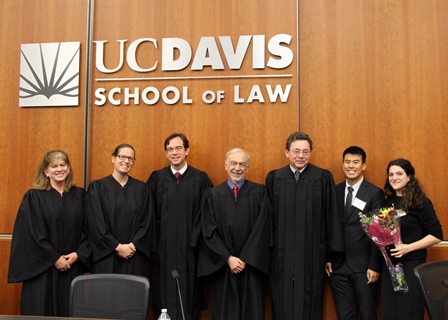 Many volunteer judges helped out to make the competition possible, including Immigration Judge Joren Lyons, Professor Evangeline Abriel (Santa Clara), Professor Edward Telfeyan (McGeorge), and Audrey Hemesath (Assistant U.S. Attorney, Eastern District of California). The problem for the competitors involved an asylum applicant seeking relief based on membership in a "particular social group" based on his blood type for which a government is discriminating and whether a crime precluded him from relief.
I was asked to judge a preliminary round and judged an argument with Professor Gabriel "Jack" Chin. The advocates were outstanding and dealt deftly with a complicated set of facts and law. 
The final competition was great to judge and we had a full room of spectators. The advocates, composed of two teams from Columbia Law School, were outstanding.  It was a close competition but the petitioners, Lauren Phillips and Elise Lopez, won in a nail-biter.
The Moot Court Board deserves recognition for organizing a first rate competition and on a job very well done. Go King Hall!!!