10th Annual Diversity Law Student Reception
Posted By Madhavi Sunder, Sep 11, 2017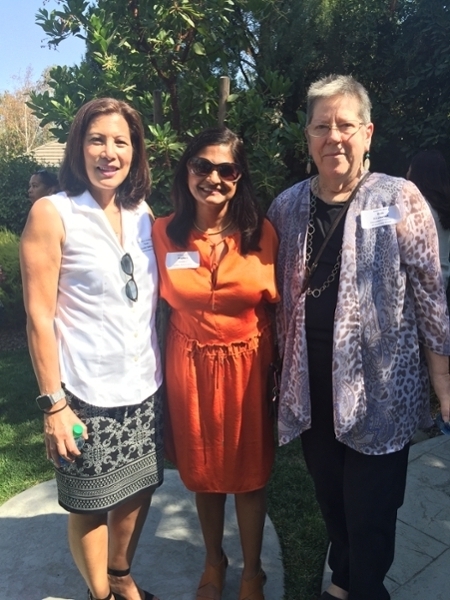 This Saturday afternoon I had the pleasure of attending the 10th Annual Diversity Law Student Reception hosted at the lovely Davis home of Sacramento Superior Court Commissioner Shama Mesiwala '98.  This annual event provides an opportunity for diverse law students in the Sacramento region to meet esteemed judges and legal practitioners in the area. The event, which began with just a handful of judges a decade ago, has grown into a phenomenal space for celebrating and supporting diversity in the profession.
This year some 200 people attended the networking event, including almost 30 judges. Chief Justice of California Tani Cantil-Sakauye '84 delivered the keynote address, in which she spoke about the important role mentors — many of them present on Saturday — had played in her own career. She spoke passionately about the importance of having diverse voices at the table as lawyers and judges debate California law and policy. (That's the Chief Justice pictured above with me and our Associate Dean for International Programs Beth Greenwood.)
A huge shout out to Commissioner Mesiwala for her vision in founding this event, and her commitment to seeing this network grow and become firmly established. Thank you, as well, to Hiren Patel and Vishali Singal, co-presidents of the South Asian Bar Association (SABA) of Sacramento, which hosted and organized the event. And finally, thank you to the judges and justices who came out to show their support for diversity in the legal profession.
All of the judges and lawyers present warmly and actively engaged in meeting the dozens of King Hall and other law students there Saturday afternoon. In addition to Chief Justice Tani Cantil-Sakauye of the California Supreme Court, other judicial dignitaries in attendance were Chief Judge Morrison England and Magistrate Judge Allison Claire from the United States District Court, Eastern District of California; from the California Court of Appeal, Third Appellate District we had Presiding Justice Vance Raye, Justice Ron Robie, Justice Kathy Butz '81, Justice William Murray, Justice Elena Duarte, Justice Louie Mauro '87, Justice Andrea Hoch, and Presiding Justice (retired) Art Scotland; from Sacramento County Superior Court we had Presiding Judge Kevin Culhane, Assistant Presiding Judge Dave De Alba, Presiding Judge of the Juvenile Division Stacy Boulware Eurie '95, Judge Jerilyn Borack '82, Judge Steven Gevercer, Judge Russ Hom, Judge Chris Krueger, Judge Alan Perkins '73, Judge Jennifer Rockwell, Judge Raoul Thorbourne, Judge Emily Vasquez, Referee Marlene Clark, Commissioner Scott Harman, and Commissioner Danny Haukedalen; from Yolo County Superior Court Judge Dave Rosenberg '74, Judge Sam McAdam, Judge Janene Beronio, and Judge Sonia Cortes; Judge David Ashby from Sutter County Superior Court; Commissioner Monique Langhorne from Napa County Superior Court Administrative Law Judge Dianne Dobbs and Judge Dee Brown. Niti Gupta, the co-founder of SABA, was also there!
I was thrilled to see so many of our King Hall students getting to know the leaders of our local legal community, and most touched to see the many leaders today who were themselves students at this event 10 years ago.