Nathan Zhang, Class of 2013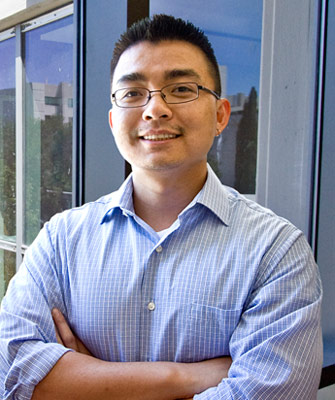 Hometown: San Jose, CA
Undergraduate Degree: UCLA, B.S. Electrical Engineering '08
Career Interest: Patent Litigation
Nathan Zhang thought he was destined to a lifelong career as an engineer. After graduating from UCLA with a degree in electrical engineering, he worked at the Silicon Valley headquarters of NVIDIA, a global company specializing in computer and video game graphics.
King Hall's programs and reputation are growing by leaps and bounds.
"After two years, the engineer's lifestyle began to feel a bit routine," said Zhang. "I wanted something that I would enjoy more for the next 30 years of my life."
Through his engineering work, he learned the basics of patent litigation. "It triggered something in my mind," he said. "In patent litigation, every case is different. I knew it would give me a chance to work with a lot of technologies, not just one. So I decided to go to law school."
He began his legal studies at another California law school, but quickly decided that he wanted to transfer to a school that had a better academic reputation and more supportive environment. He says UC Davis School of Law was the perfect fit. "Everybody at King Hall is so warm and nice. One of my first-year law school classmates thought so, too. We both transferred to Davis, and now he's my roommate."
Upon arriving at UC Davis, Zhang was thrilled to find many ways to participate in the student community. "I was amazed by the array of groups and activities available to second-year students here," he said.
Zhang counts Moot Court and Mock Trial among the most defining experiences of his law school career. He turned in an outstanding performance in the Saul Lefkowitz International Trademark Moot Court Competition: "The regional round was held at 9th Circuit U.S. Court of Appeals Courthouse in San Francisco. Then we got to go to Washington, DC to compete in the national round, which was amazing."
He also competed in the Law School's annual Neumiller Competition, which features the four top advocates from the King Hall Appellate Advocacy program. "That was the best experience I've had so far in law school. Arguing before two 9th Circuit Judges and two Eastern District judges was the most intense 15 minutes of my life!"
Now that he has graduated, Zhang is set to join the Palo Alto office of White & Case, working with the patent litigation group.