Pajmon Zarrineghbal, Class of 2012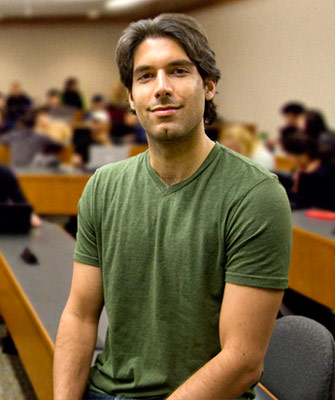 Hometown: Palos Verdes, CA
Undergrad: UC Irvine, B.A., Sociology '08
Career interest: entertainment law, corporate law
For Southern California native Pajmon Zarrineghbal, one east coast winter was enough.
I love the faculty here. I feel like I was able to connect with any and every faculty member that I wanted to. Their doors were always open.
"I had always wanted to go to the east coast, so I went there to attend law school. But toward the end of my first year, I wanted to come back to California. Blizzards aren't for me."
Zarrineghbal, a UC Irvine graduate who majored in sociology and minored in pre-med, developed his interest in law after talking to family friends who are attorneys. He had been planning to go to medical school after graduation but switched gears after doing volunteer work at a few boutique law firms. He finished his first year of law school in New Jersey before transferring to UC Davis School of Law.
"If I was going to transfer, I wanted to go somewhere where I wouldn't have to deal with a cutthroat law school environment. King Hall lived up to its reputation as a nice and inviting place. From day one, I felt welcome."
At King Hall, Zarrineghbal was active in a number of student groups and activities. He was an officer in the Middle Eastern South Asian Law Students Association (MESALSA) and an editor for the Business Law Journal. He was involved in moot court and negotiations competitions and played in the Law School's annual Dr. Ives basketball tournament.
He praises King Hall's close-knit community, which allowed him to develop good relationships with his professors. "The faculty is amazing," he said. "I love the faculty here. I feel like I was able to connect with any and every faculty member that I wanted to. Their doors were always open."
Another selling point for King Hall was the UC Davis campus, Zarrineghbal said. "I always encourage people to visit the campus. There's no other law school environment that's as tranquil or inviting as Davis."
"During my time at King Hall, I feel like I connected with so many people," he added. "Being able to interact with so many people on campus really allowed me to grow. Whether you come to King Hall as a first-year, a visiting student, or a transfer – like me – you're welcomed with open arms."