Irene Williams, Class of 2014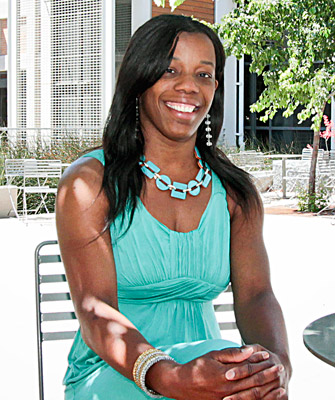 Class of 2014
Hometown: Houston, Texas
Undergraduate Degree: University of Texas-Austin, Government, 2011
Career Interest: Criminal law
When Irene Williams was growing up "in the projects" in Houston, Texas as the tenth of thirteen children in a family that often couldn't afford electricity or running water, she was told many times she'd never escape the cycle of poverty.
"They said I would never make it out," she recalled. "They said I'd be pregnant by 13, on welfare by 14, and a high school dropout by 15. When I told them I wanted to be a lawyer, and that's how I was going to make a difference in the world, they said, 'Ha! Keep dreaming!'"
I am truly blessed. Every day at King Hall is reminder of where I've come from and where I'm going.
Williams did keep dreaming. She not only graduated from high school, but earned a bachelor's degree in Government from the University of Texas-Austin. Then, after a few years of work, she gained admission at UC Davis School of Law, joining the Class of 2014.
At King Hall, she has been an active member of the Law School community, serving as vice chair of the Black Law Students Association and as regional representative for the National Black Law Students Association. She also has worked an externship with the Sacramento County District Attorney, where she has already been offered and accepted full-time employment after graduation.
"Statistically speaking, people of color are more likely to be arrested, more likely to be prosecuted for minor criminal violations, and more likely to receive lengthy prison sentences," said Williams. "I have great respect for the work that public defenders do, but my goal is someday to be a position to decide whether or not to even press charges. I want to be in a position to see that justice is being done for all individuals from both sides of the courtroom."
She enjoys the rich learning environment and supportive community at King Hall.
"I feel very grateful to everyone who has supported me and made it possible for me to be where I am today: my family, my teachers, my classmates and professors, and the donors who have selflessly given to support scholarships so that I and others like me can keep on dreaming," she said. "I am truly blessed. Every day at King Hall is reminder of where I've come from and where I'm going."