Kara Ueda, Class of 2000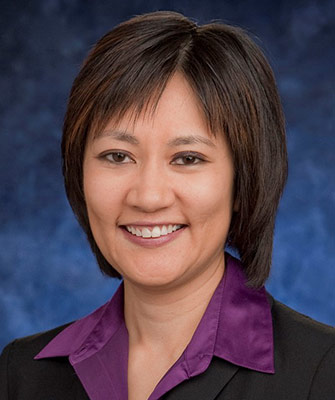 Kara Ueda is a 2000 graduate of UC Davis School of Law. A partner at Best Best & Krieger, she is a member of the firm's Municipal Law practice group. She also attended UC Davis as an undergraduate, where she majored in Environmental Policy, Analysis, and Planning. Ueda also serves as a Visiting Lecturer at King Hall, where she teaches Local Government Law.
What did you do before coming to King Hall?
I took a year off in between college and law school to be a Senate Fellow and work for California State Senator John Vasconcellos and the Senate Public Safety Committee. The fellowship is a joint program between the Capitol and Sacramento State. It is very rigorous but also a lot of fun. Working with the Public Safety Committee allowed me to work in close proximity with the committee's lawyers. I knew I wanted to go to law school before my fellowship, but working with the committee really motivated me to apply to law school.
How did you arrive at being a partner at Best Best & Krieger?
After I finished law school I went to work at the League of Cities. That was when I got the most interested in Municipal Law. At the League of Cities I gained a broad overview of cities and what city attorneys do; I learned about all the different and complex issues they deal with every day. Then I worked for McDonough Holland & Allen until 2002 before going over to Best Best & Krieger in 2010. I do a lot of advisory work as City Attorney for the City of Woodland and other clients, and some litigation, primarily in election, land use, and CEQA.
What is your favorite thing about your current work?
I enjoy being a part of the public process and decision-making. I get to be involved in issues that are important and serve the local community. Through my career, I also get to see projects I've worked on take shape, such as conservation easements outside of Davis that provide permanent protection for agricultural land.
Who was your favorite King Hall Professor?
I have two: Thomas W. Joo and Joel Dobris. I took Professor Dobris for Property. It was the most stereotypical of what I thought law school was going to be like in terms of the Socratic method, but Professor Dobris made property interesting and had a number of different ways to illustrate the more complicated concepts. It wasn't a class that I ever thought I would like or be interested in. I also liked Professor Joo, who I had for three different classes, though my favorite was Critical Race Theory. In Critical Race Theory we got to see a different side of academia and research than just the casebook method.
What was your favorite King Hall class?
I'm not sure if I have a favorite—they were all great! I did really like Constitutional Law, both 1 and 2, because we studied issues that were identifiable to me. I knew what the issues were about in Constitutional Law, but they seemed much more abstract before going to law school. I also use a number of the fundamental concepts from the class in my municipal law practice concerning due process and  free speech.
What class served you well in your career choice?
I think the most useful class was Property because I do some amount of real estate in municipal law, and Constitutional Law was very beneficial. Legal writing taught me how to make my writing more concise and clear.
Did you participate in any student organization or journals?
I was involved in APALSA (Asian Pacific American Law Students Association) and the Moot Court Board.  I was also served in the Law Students Association (LSA) as a third-year class representative.
What is your favorite King Hall memory?
What really sticks with me is the camaraderie between all the students and professors at King Hall. I remember how one of our classmates put all of his 1L outlines online for people to use – that just doesn't happen in other places! I also have a fond memory of the last day of third-year: all of the third-year students had mimosas before class, and Professor Lewis seemed to call on each one of us in her class.
Do you have any advice for current law students?
The most important thing for jobs or internships is to do a lot of research on different industries, organizations, and firms. Get a good feel for what the type of work you want to do, and reach out and ask a lot of questions. Finally, alumni are very receptive to hearing from students, so utilize us as a resource!