The Honorable Nancy Wieben Stock, Class of 1976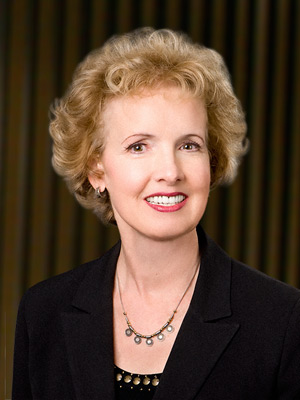 The Honorable Nancy Wieben Stock '76 mediates and arbitrates for JAMS, the largest private alternative dispute resolution provider in the world. For 24 years Stock served on the Orange County Superior Court bench. Prior to that, she was an Assistant U.S. Attorney for 12 years, and practiced business litigation with an Orange County law firm.
You have an unusual license plate?
I'm a "twofer" because I was at UC Davis as an undergraduate and a law student. One day, I was sitting at a smog station, passing the time by going through DMV brochures, when I saw the opportunity to obtain a personalized license plate. That's when I came up with it. (See photo below.)
What do you enjoy about your work?
I'm a retired Superior Court judge After 24 years on the court, I'm on my third career now, as a "neutral" with JAMS. That means I'm a mediator, arbitrator, and private judge. I enjoy being able to really sink into the work and focus on one individual case. It's not like having 320 cases on my direct calendar docket, as a judge. I can very much dedicate myself to working out a single solution, and I can spend days with the parties, if necessary. I really enjoy being able to pull back the curtain and understand the angst involved—the intricacies of a particular business or an individual's journey. They need a neutral third party to help them through it. It allows me to be very focused and energized on one matter.
What are you proudest of from your career?
Overall, that my career lined up with the Martin Luther King, Jr. concept of public service. I went to all public schools from kindergarten through law school. Virtually my entire career—except the very beginning and the very end, so 40 years—was in public service. As a federal prosecutor and a judge, I took a "servant-leadership" perspective, always remembering who I was serving. That was very satisfying.
What did you do right after law school?
I started at a law firm in Orange County, but I was only there for 18 months. President Jimmy Carter had just been elected, and he selected Andrea Ordin to be the first woman to serve as U.S. Attorney from the Central District of California. I had the extraordinary opportunity to join her team's Criminal Division, as a federal prosecutor. I was there for 12 years.
What did you do before coming to King Hall as a student?
I came straight from being a UC Davis undergraduate. As a political science major on campus, my senior year, I was able to take a Moot Court class taught by Professor Clyde Jacobs. We were permitted to observe and do legal research at King Hall. That ignited my enthusiasm for law school.
It also set me on my career path. I went on to pursue Moot Court in law school. My partners and I won at the state competition and went to the national finals in New York. We were one of only two all-woman teams. That looked unusual in 1975. We made it to the final oral argument, before a nine-judge panel. One of the judges was Supreme Court Justice Potter Stewart. We won that argument and I was selected the Outstanding Individual Oral Advocate in the final round.  We took second place overall, to Duke Law School.  It was an extraordinary journey.
Getting a job at the U.S. Attorney's office was very competitive. As it turned out, Andrea Ordin had been on Moot Court at UCLA Law School's National Moot Court Team. I believe that gave us a special connection. The rest is history, as they say.
What is your favorite King Hall memory?
The National Moot Court final in New York City was extraordinary. I also loved the camaraderie at King Hall, the beautiful arboretum setting, and the collegial atmosphere. I enjoyed "Cardozorama," the talent show, which I understand has been renamed, "Aokirama."
What class at King Hall served you well in your career choice?
Professor James Hogan inspired me. He had won the national Moot Court competition for his law school. His criminal law course served me well when I spent 12 years in criminal law. His trial practice class was also most influential.
Did you participate in other student organizations?
I was in the legal fraternity Phi Delta. I was also a legal research instructor my third year. That was wonderful because it meant I interacted with the first-year students. I was also in King Hall's women's organization.
Do you have any advice for current law students?
I would advise new law students to consider their law career to be a long journey and not to stress too much about immediate career results. I would tell them not to worry too much about their first job. There will be opportunities to course-correct when you figure out what really feeds you. Don't be so anxious about the first few years.
How have you stayed involved with King Hall?
I'm joining the Law School Alumni Association Board of Directors this year. When Norm Weil '76 was President of the UC Davis Foundation Board of Trustees for the full campus, he encouraged me to become involved in that. I was on the Foundation Board for three years in the 1990s.  That plugged me into our mission as a land grant university and was where I explored the concept of university development and building relationships with alumni supporters.
An alumna in Sacramento, Judge Judy Hersher '84, formed a King Hall alumni group for judges. King Hall finally had enough alumni judges statewide to form an organization. We support judicial internships and career opportunities and provide inspiration. We had a weekend event with class sessions, a dinner, and a tour of the brewery at UC Davis's Robert Mondavi Institute for Wine and Food Science. Shortly thereafter, Tani Cantil Sakauye '84  was appointed Chief Justice of California. It made us all very proud.
I also go to my class reunions and to alumni events in Orange County. I came up to Davis for the ribbon-cutting for King Hall's new wing. We had a full weekend of activities, including traveling with Dean Johnson to Cal for the UC Davis–Cal football game. Dean Johnson wore his Cal hat under his UC Davis hat. It was a very lopsided score, but we all had fun.
I'm excited about funding a scholarship, with my husband, Ronald C. Stock '75. It is needed. I'm happy to be involved in anything that helps students meet their goals.
Is there anything else you would like to add?
It's encouraging to see our law school taking a leadership position on the national front. I read editorial pieces by Dean Johnson and other faculty, and I'm proud to see our law school taking the intellectual lead in important debates by sharing accurate and intriguing information. It puts us on the map, but it's also an important role that we should play.