Darrell Steinberg, Class of 1984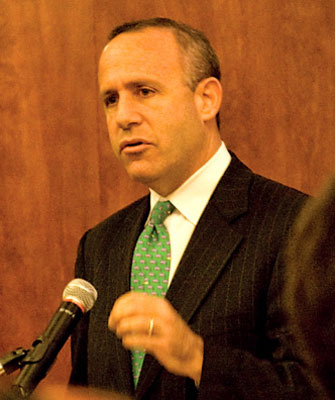 Some times, nice guys finish first. Take Darrell Steinberg, President pro Tem of the California State Senate from 2008 to 2014 and a member of the UC Davis School of Law class of 1984. Steinberg became one of California's most powerful, influential, and effective legislators while also winning recognition for honesty, integrity, and an amicable personal style that is unique in the rough-and-tumble world of California state politics.
Steinberg has long held a reputation as a humble, smart, and substantive public servant. After graduating from King Hall, he worked as an employee rights attorney with the California State Employees Association and an administrative law judge and mediator, then served as Sacramento City Councilmember and State Assembly member before moving on to the Senate in 2006. He became Senate leader in August 2008 after quietly and effectively building a consensus behind his candidacy, leading to hopes that his leadership would bring a new spirit of cooperation to Sacramento.
Throughout his legislative career, Steinberg has been a leading voice on issues of mental health and environmental policy, winning national recognition for his efforts in putting into place state land-use policies that support reduced greenhouse gas emissions. He has been named Legislator of the Year by organizations including the California School Board Association, the California Federation of Teachers, and Californians for Disability Rights, and has received awards including the Public Service Award from the California School Employees Association and the California Journal's Minnie Award, which recognized him for "conduct, an outlook, and demeanor that exemplifies the best kind of public service."
His signature style—honesty, collegiality, and a clear focus on the public interest—remain a proud reflection of his King Hall roots. In delivering the keynote address for the inaugural King Hall Alumni on the Bench Reunion, Steinberg told the more than two dozen judges in attendance, "I will stand with you as a proud alumnus of King Hall, 1984."
At the conclusion of his final legislative term in December 2014, Steinberg joined the Sacramento office of Greenberg Traurig LLP, where he is Chair of the firm's California Government Law & Policy Practice.