Tom Stallard, Class of 1975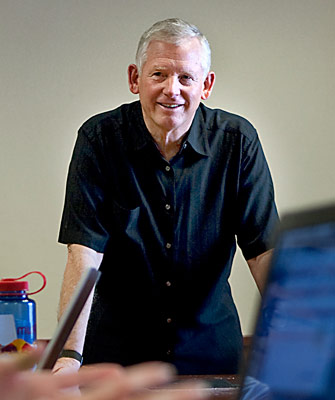 As a student at King Hall, Tom Stallard worked for the California Legislature and used the legal knowledge and practical experience he gained to launch a thriving business that has prospered for more than 35 years. As an alumnus, he has been one of the Law School's most enthusiastic volunteers and supporters.
"I wouldn't do it for just any law school," he said. "King Hall is an exceptional place, and I think it's important to support this kind of excellence in public legal education."
Stallard attended UC Davis as an undergraduate from 1964-68, and "just fell in love with" the town and the university. After graduation, he spent time as an officer in the Navy, but as his stint came to an end, he realized he really wanted to study law-if he could do it at UC Davis.
I think it's important to support public legal education. Further, I'd say that it's important to support affordable public legal education.
"I literally decided that I was going to go to King Hall or I wasn't going to law school," he said. "It was the only school I applied to, and I wrote that on my application."
Stallard was accepted, and when he arrived, he found King Hall to be everything he'd hoped for. Founding Dean Edward Barrett-whom Stallard had met as an undergraduate- had assembled an inspiring faculty and succeeded in creating a Law School where academic excellence could take place in a supportive and cooperative community.
"The faculty were terrific, just as they are today," he said. "They were not only wonderful scholars, but they also cared about the school and about the welfare of the students. There was a real focus on excellence. I loved the disciplined thinking involved in legal education."
During his first year, Stallard was selected for an internship with the California State Assembly, where he later joined the Minority Consultant Staff. The experience, combined with knowledge gained in his legal studies, led him to realize that a need existed for a service that would provide legislative histories of state and federal statutes and regulations, leading him to co-found Legislative Intent Service with fellow alum William H. Keller '72.
"I perceived a need that hadn't been filled in terms of the delivery of legislative source documents that were germane to properly construing statutes and regulations," said Stallard. "The business was established in the fall of 1974, while I was still in law school, and it got so busy I could barely make time to study for the bar.. I'm not sure I would recommend that for everybody!"
Following his graduation in 1975, Stallard passed the bar, and Legislative Intent Service proved a lasting success. Today, the business employs a staff of 10, including four lawyers, two of whom are King Hall alumni. "Our business has gained a national reputation," he said. "We're now cited in almost 70 appellate cases-at the Ninth Circuit, the Supreme Court, and all the appellate districts of California."
Stallard is particularly proud of the firm's pro bono research for the case of Audubon v. Department of Water and Power, which forever changed California environmental law and ensured that Mono Lake would be saved. Stallard's research was central to establishing the Constructive Trust Doctrine of the California Constitution as a principle that could be applied in a wide range of environmental protections.
"The concept is that even though you may own the land, you hold any natural features of the land in constructive trust for the benefit of the public," he said. "I'm proud of that. I think it's the most significant thing we've ever done."
Stallard can also take pride in his work as an expert witness-he submitted testimony in the Rodney King trial, among many others-and in his service as a Yolo County Supervisor, an office to which he was twice elected.
"I have a missionary feel about this," he said. "Lawyers should be willing to serve in public office. Lawyers understand what issues are all about, and they have a lot of useful training that helps them resolve conflict."
Stallard has contributed his skills to a wide variety of public non-profit boards including public television station KVIE, the Sacramento Metro Chamber of Commerce, Valley Vision, and the Great Valley Center, in addition to serving as Chair of the Cleaner Air Partnership. He is also a founding trustee of the California State Library Foundation, a founder and past president of California State Archives, and a founder of the California Museum. Since 1980, he has also run the Rose Colored Glass Company, which specializes in the renovation of historic buildings.
Despite the many demands on his time, he continues to volunteer for the Law School, serving on the King Hall Alumni Board, of which he is a past president. He has, in the recent past served with his wife, Meg, on the UC Davis Foundation Board of Trustees, of which she is still member and a past president. The couple has given generously to the Law School, including a gift to name the Stallard Family Conference Room that will grace King Hall's new east wing. (The naming honors the Stallards as a family in order to also recognize their son, David S. Stallard, a 2004 graduate of King Hall.)
"I think it's important to support public legal education," said Stallard. "Further, I'd say that it's important to support affordable public legal education. I got my legal education for about $600 a year, and now these kids are paying more than $30,000. One of my goals is to help fully fund the King Hall Expansion and Renovation project so that we can focus on providing more scholarships."