Esmeralda Soria, Class of 2011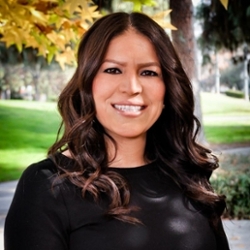 Esmeralda Soria '11 is the 2018 City of Fresno Council President. She is the only woman on the council, the youngest councilmember currently serving, and only the second Latina ever to serve on the City of Fresno Council. She is also a professor at Fresno City College, teaching Constitutional Law and Latino Politics. 

How did you first become interested in politics? 
I've been involved in politics for over a decade. Actually, my first exposure to elected officials was as a high school sophomore, when I attended the Chicano Latino Youth Leadership Project conference in Sacramento. We stayed at Sacramento State for about a week over the summer and learned about the legislative process from legislators and their staffs. In college, I majored in political science. Then I worked with a couple of senators and an assembly member. I saw the inner workings of the capitol. Interacting with Latino elected officials particularly sparked my interest. Seeing legislators who looked like me helped me believe that someday I could do the same things. 
What do you find rewarding about serving on the city council and about politics in general? 
One thing I find rewarding is being able to provide a different perspective, not only as a woman but as a first generation born in the U.S. I pride myself in being the voice of those that traditionally are left out of the policy and political process. But I also find it rewarding when I am able to open a new park in a disadvantaged neighborhood or a police substation, pave streets and fill potholes, and even bring new businesses to our city. 
It's also rewarding to receive emails or calls from interns who are doing great things after they've come through my office. Seeing how the experience motivated them is encouraging and reinforces the importance of providing young people an opportunity to learn about local government. I love my job as a council member. 
What did you do immediately after law school, and how did that lead to the Fresno city council? 
During law school, in my second summer, I worked part-time at California Rural Legal Assistance Foundation under Amagda Pérez '91. Specifically, I worked on the Sustainable Communities Project for Martha Guzman Aceves '02. I worked on issues that impacted disadvantaged unincorporated communities, mostly environmental justice issues. After law school, I was drawn back into the policy world. I became the Sustainable Rural Communities Project Director, working on land use, affordable housing, safe drinking water and air quality, among other things. I was traveling throughout the state, but particularly focusing on Fresno, Tulare, and Stanislaus Counties. 
One of the things I worked on then was finding incentives for cities to provide services to people living in disadvantaged unincorporated areas. It is very hard to convince cities to connect unincorporated areas to their water and sanitation systems. In Sacramento, I worked on state legislation to create incentives. And recently the City of Fresno used that legislation. The city received a 0 percent interest loan from the state to help fund the Fresno Recharge program while connecting a school that was in an unincorporated area with contaminated water to our water supply. So I've come full circle now. 
What made you decide to come to King Hall? 
I always wanted to be an attorney. It was a lifelong dream. I grew up in Lindsay, in Tulare County. My parents were farmworkers and were undocumented until 1986. I saw their struggles. I knew one day I would be their advocate, as well as for others like my parents. 
Along the way, I met our local mayor, who had been a judge. Lindsay was such a small town that I could meet the mayor. So I knew a little bit about attorneys. He encouraged me. And, when I attended UC Berkeley I became more and more interested in the policy and legal field. In my Political Science and Chicano Studies courses, I learned about the power of knowing the law. 
When I researched schools, King Hall stood out because of its emphasis on public interest law and because of the Immigration Law Clinic. I always knew I was getting my degree to be able to serve our community and be a voice for immigrants. 
What is your favorite King Hall memory? 
Working in the Immigration Law Clinic. I had the opportunity to represent an older couple. They were undocumented, but had lived in the United States many, many years. I accompanied them through the entire immigration process and got their permanent residency cards. It was my most rewarding experience ever. They were like my grandparents—that's how I saw them. I was able to have such an impact on their lives. 
The other favorite memory I have is my semester working at the White House for the Obama Administration. I had the opportunity to work on ADA, LGBTQ, and Latino issues. And I met President Barack Obama, First Lady Michelle Obama, Vice President Joe Biden, and 2nd Lady Jill Biden. 
What class at King Hall has served you well in your career? 
Legal Research & Writing has been very, very important in everything I've done. After King Hall, I was way more confident and a way better writer. It had always been a struggle for me because I was an English language learner. I was able to hone my writing skills in law school. Those skills have been critical to my involvement in policy and to being able to articulate a message. 
What student organizations did you participate in? 
I worked with the Immigration Law Clinic all three years. I started as a 1L, volunteering at naturalization workshops. I was on the La Raza Law Students Association board all three years, and I was co-chair for one. I helped with the Public Interest Graduation, and I received the Public Interest Certificate. For all three years, I was also involved with the King Hall Coalition for Diversity, the King Hall Legal Foundation, and the King Hall Outreach Program as an outreach mentor. 
I was a research assistant for both Dean Kevin Johnson and the late Professor Keith Aoki. In fact, I was one of the co-authors on Professor Aoki's last article: "Pastures of Peonage: Tracing the Feedback Loop of Food Through I.P., G.M.O.s, Trade, Immigration, and U.S. Agro-Maquilas," published in Northeastern University Law Journal. 
Dean Johnson has always been very receptive to any recommendations for how to improve student life or our organizations. He's so responsive. Knowing the dean was a person I could talk to and that he really wanted to be connected to the students made a world of difference. 
Do you have any advice for current law students? 
Law school was a tough adjustment, but I got through it with the help of my professors, mentors, and peers. My advice to students is to utilize the resources that are available, ask questions, and study with your peers. Every time I went to professors, they were willing to help. They want us to succeed. Ultimately, we are a reflection of our professors. 
Not every day will be fun. Find a balance. Get involved in the great things law school provides. That kept me sane. The Immigration Law Clinic gave me balance because it connected me to people. It allowed me to make personal connections, help people, and make a difference at the same time. It reminded me of why I was going to law school — to make a difference.