Robert J. Romero, Class of 1988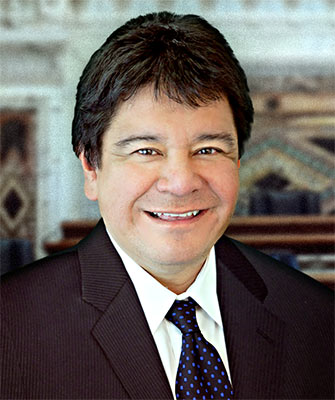 Robert J. Romero is a 1988 graduate of King Hall and current Partner-in-Charge of the San Francisco office of Hinshaw & Culbertson LLP, where he has served as a member of the firm's principal governing body, the Management Committee, since 2006.
What is your favorite aspect of your current work?
I am fortunate to have the opportunity to be a trial attorney. Trial is never dull and there is constant learning going on. I enjoy the lack of routine and the new challenges that come with each case.
How did you arrive at your practice at Hinshaw?
I worked for ten years at Long & Levit dealing primarily in legal malpractice defense work. I remember my first week there I was advising a lawyer being deposed who had practiced longer than I had been alive! When you defend other lawyers, you mature and learn much very quickly. Moving to San Francisco and helping found the San Francisco offices of Hinshaw provided me with a bigger platform and more opportunities since Hinshaw has over 500 lawyers and is a national firm.
What did you do before coming to King Hall?
I received my B.A. from California State University, Sacramento, in 1985. During my senior year at Sac State, I was enrolled in the Sacramento Semester Program where I was assigned to Assemblyman Elihu Harris '72, for whom I ended up working until I started law school. Then, during the summer of my first year of law school I received an offer from the Assemblyman's Chief of Staff to run his legislative calendar while the Chief of Staff studied for the bar. In that role, I was able to work on all sorts of legislation. In particular, I was able to work on the 1986 Discovery Act. Before the Discovery Act, lawyers would send interrogatories by the pound, so there was a lot of discussion on how the legislation would change the system. As a young law student, I was able to sit in on meetings and was even taking notes on the language that is in the statute with regards to the 35 interrogatory limit.
What is your favorite King Hall memory?
My classmates, many of whom I still speak with often, as well as participating in the King Hall class golf tournaments. I still have many t-shirts from the Judge Smails Memorial and The King Hall Classic golf tournaments that give me cause to smile! My three daughters have discovered some of those shirts.
What was your favorite King Hall class?
My favorite class at King Hall was first year Civil Procedure with the late Professor Jim Hogan. He was just constantly entertaining. We also shared a passion for baseball and the Oakland Athletics.
Who was your favorite King Hall professor?
Richard "Dick" Wydick was my favorite professor for two reasons. First, his book "Plain English for Lawyers" transformed my career as a law student and even as a lawyer. I've shared the book with many other attorneys. Second, I had Dick for Evidence, and his ability to communicate and teach were second to none. He was able to teach Evidence in a way that stuck with me, and I have carried it through my practice as a trial attorney.
What class at King Hall served you well or would you recommend?
I took Trial Practice with Professor Ed Imwinkelried. I knew I wanted to focus on civil trials. Like Wydick's book, Imwinkelried's book "Evidentiary Foundations" was really useful and still impacts my practice today. My trial practice partner Larry Gornick, also went on to develop a successful trial practice here in San Francisco. Larry and I continue to speak often about our King Hall days.
What types of student organizations did you participate in, and how did they impact your practice?
I was a member of La Raza. Diversity was something in the forefront at the time I was in school, and I believe that law schools led the way in terms of promoting diversity in major firms. Now you see the big shift toward diversity in big law firms and clients who believe diversity is a priority.
Do you have any advice for current law students?
Never forget the reasons why you wanted to be a lawyer. Once you begin practicing law, there is pressure of various sorts, and I see people attempt to chase success. I have found that the people who do well are those who have stayed true to themselves and what they wanted to accomplish in the first place.