The Honorable Alberto S. Roldan, Class of 1992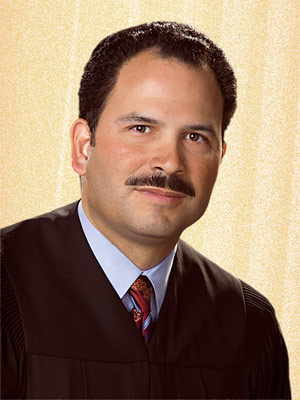 The Honorable Alberto S. Roldan '92 is an Administrative Law Judge II with the California Department of Alcoholic Beverage Control. His previous positions include Chief Administrative Law Judge and Executive Director for the California Unemployment Insurance Appeals Board, Chief Deputy General Counsel to the California Department of Corrections and Rehabilitation, Governor Arnold Schwarzenegger's Deputy Appointments Secretary, and Deputy District Attorney for the Sacramento County District Attorney's Office.
ALJ Roldan remains extremely active with King Hall. He teaches Trial Practice as a Visiting Lecturer. He is also the current president of the King Hall Alumni Association Board of Directors.
What do you enjoy about being an Administrative Law Judge?
I like the informal aspect of being able to resolve disputes between parties. I have an opportunity to directly connect with the parties and take a much more active role than I would in other court settings.
What did you do before coming to King Hall?

After high school, I took a hiatus in the U.S. Marine Corps before college. I continued as an infantryman in the Marine Corps Reserve both while I was in college and while I was at King Hall. I was a cold weather specialist assigned to a Marine Unit in Buffalo, N.Y.
What is your favorite King Hall memory?
I met my wife Susan at King Hall, so that is highest on my list of many great things. We started dating at the end of my third year. She also graduated from King Hall, Class of 1993. Also, the friends I made. It's a wonderful environment. If you're going to tough out something as difficult as law school for three years, it's important to have good friends for support. We used to potluck and watch Star Trek: The Next Generation on Saturdays to take a break from classes.
Who was your favorite King Hall professor?
Floyd Feeney was a great professor and was instrumental in helping me get my first paid legal job. Edward Imwinkelried was my mentor in becoming a good trial attorney. He was the one who originally invited me to be an adjunct professor in the trial practice program. So the support stayed in place even after I graduated.
What class at King Hall served you well in your career choice?
Richard Wydick, who just passed away, taught Evidence. That was the hardest class I had in law school. We would have one-on-one meetings because I was really struggling. Finally, the lightbulbs would go off and I would grasp what he was teaching. Just the other day, I posted on Facebook about him using Russian dolls to explain the layers of hearsay. The core of being a trial attorney is handling evidence. By far, Evidence was the class that was most useful to me.
The trial practice program was also critical: being able to take practice runs at mock trials. I knew from my first year I wanted to be a trial attorney. Professor Imwinkelried was very involved in the program.
Did you participate in student organizations?
I was very involved in the La Raza Law Student Association. Being a reservist with the Marine Corps didn't give me a lot of time for other student organizations, but I was active with the mock trial program and competitions.
Do you have any advice for students?
Even before you go to law school, practice becoming a good writer. Being a good written communicator sets you apart from other people who are pursuing the same opportunities. Possibly because of social media, the quality of writing has suffered noticeably in recent years. Take opportunities to submit your writing to others for feedback. Take classes that require written work product.
Depending on the economy, you might need to accept opportunities that aren't necessarily your first or second choice. Anything that gives you the opportunity to develop professionally will push you forward in the legal profession. For a while, I had a non-legal job that paid the bills while I volunteered for a judge in San Bernardino. It was a wonderful experience. Be tenacious. Be willing to make personal sacrifices.
Is there anything you would like to add?
I love this school. I have no reservations about choosing King Hall. I'm still there all the time, as a visiting lecturer and serving on the alumni board. Over the years, I've seen significant changes in the faculty, but the attitude and idea that drives King Hall is intact. I'm excited by our new professors and deans. It's still a small, supportive environment where the professors and staff help students develop. They continue to stay by your side after graduation.
It's special. It's hard to quantify, but it's real.