Jennifer Rodriguez, Class of 2004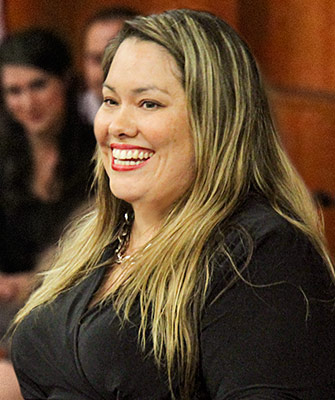 Jennifer Rodriguez is a 2004 graduate of King Hall and current Executive Director of the Youth Law Center in San Francisco.
What did you do before coming to King Hall?
I spent years as a community organizer of youth living in foster care, helping them to improve the child welfare system. This work was important to me because I spent most of my childhood in foster care, group homes, and shelters in the Bay Area. When I left my last group home at 18, I was homeless, without a high school diploma, job skills or any adult support in my life. I was fortunate enough to graduate from the San Jose Job Corps with a G.E.D., receive my A.A. at a local community college, and then a B.A. with high honors from UC Davis, and so I wanted to assist other youth in changing the system to ensure all foster youth had the same kind of opportunities.
Why did you decided to attend law school?
I believed that receiving a legal education would enable me to elevate the voices of children in foster care and work on ensuring access to justice for foster youth.
What is the primary focus of the Youth Law Center?
The YLC's core mission is to protect the rights of children and youth in the foster care and juvenile justice system. The YLC uses many strategies to improve their lives—sometimes class-action litigation, sometimes legislation and policy advocacy, or sometimes working directly with systems to reform their practices. Currently, the YLC is trying to limit the number of children who are growing up without families in institutional care. We are pursuing policy reform in several states, including California, as well as implementing a national project in over 50 jurisdictions across the country to help child welfare agencies to focus on parenting and support for families so that when children to move out of institutional care they have excellent homes to move into.
What is your favorite aspect of your current work?  
I feel incredibly lucky to have a job that I feel inspired to get up and work at every day. I feel like I have a chance to use my legal career and life to improve the lives of the most vulnerable children in the communities we live in.
What is your favorite King Hall memory? 
My favorite memory is actually studying in the library. I know it may sound sick to students who are currently in the struggle, but being in law school was realizing this dream that I thought was impossible for most of my life. It was such a gift to be able to dedicate time to listening to such smart professors and learning the tools that I could use to effect change. During law school, my child was a regular visitor in the law library, and I think that was also incredible. It was a realization of and exposure to a better life for my kids.
Who was your favorite King Hall professor?
I have three favorite professors: Dean Kevin R. Johnson, Justice Cruz Reynoso, and Professor Spencer Overton. Dean Johnson was my professor for Civil Procedure and Critical Race Theory. I always appreciated his thoughtful approach to the law and how analytical and critical he asked us to be. Justice Reynoso really made me feel inspired about what I could accomplish once I left King Hall. Finally, Professor Overton taught me Property, and I left his class understanding how property law shaped some of the inequities in society and how we as lawyers could use the law as an equalizing tool.
What class at King Hall would you recommend?
Critical Race Theory was my favorite King Hall class, and I would recommend it to all students. It drove home why I came to law school: to learn how to navigate and manipulate the intersection of race, power, and the law for the most vulnerable children and youth. Children and youth of color are drastically disproportionately represented in our foster care and juvenile justice systems, and the course allowed me the chance to analyze how institutionalized racism impacts the way in which governmental systems and courts treat minority children and families. 
What types of student organizations did you participate in, and how did they impact your King Hall experience?
I was in La Raza Law Students and JJLP (Journal of Juvenile Law and Policy). La Raza provided me with a community of people that supported and understood me and were invested in my success. JJLP was my opportunity to write and read about the topics related to children and the law that I was most interested in. I still read the journal now. In fact, I just used an article excerpt from the journal in some legislative material I was preparing!
Do you have any advice for current law students?  
Take the opportunity to learn as much as possible and soak up all the information—not just for the purpose of doing well in law school, but because you can take that information and use it to help those who are not as lucky as you are to have access to the legal tools they need to improve their lives.  Law school success is only the means to the end goal of serving your community. Also, recognize the opportunity you have to be in law school and make the most of it by participating in clinics, journals, externships, because there are communities that really need skilled lawyers who are committed to improving the lives of the most disenfranchised.