Dean Pregerson, Class of 1976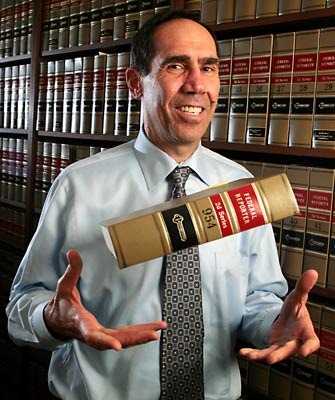 Dean Pregerson had his choice among some the nation's top universities as he considered which law school to attend following his graduation from UCLA in 1972. After visiting UC Davis, he chose King Hall, and Pregerson, now a U.S. District Court judge, is more certain than ever that he made the right choice.
"Education in law can be impersonal and adversarial, and at King Hall you're part of a small community of students who are not competitors but friends and collaborators, and that's a very positive thing," he said. "I thought that the quality of instruction was equal to what I would get anywhere, and I have since found that to be validated."
During his first visit to King Hall, he met several faculty members he considered to be "superstars" among legal scholars, including Professors Jim Hogan and Dick Wydick, and as a student, he formed friendships with them and several others, including Professors Daniel Fessler and Dan Dykstra. Faculty were very accessible, and it wasn't uncommon, said Pregerson, for them to spend time with students outside the classroom, discussing the law and the issues of the day.
"They were great people as well as great professors, and I'm still in contact with some of them, and with a lot of the people I went to law school with," said Pregerson. "Throughout my legal career, I've called Jim Hogan and Dick Wydick when I thought I'd run across a really interesting issue, or just to stay in touch."
After graduating from King Hall in 1976, Pregerson served as a legal aid attorney and an assistant public defender, then practiced as a partner in several firms before forming Pregerson, Richman and Luna. He was nominated to the federal bench in 1996, and has presided over hundreds of cases. He has published more than 100 opinions. He was named by the Daily Journal in 2007 as one of California's top 100 leading lawyers. The Journal noted that "in an age marked by controversies over Guantánamo… and warrantless wiretapping programs… Pregerson made bold decisions limiting the power of government. He declared conditions at the Los Angeles County Jail inhumane, called for speedy reforms and extended an order limiting the number of inmates that can be held in cells." He was also selected as one of the 500 best judges in the nation by the publication Law Dragon.
Judge Pregerson remains proud of his King Hall roots, and says that UC Davis School of Law prepared him well for his career in legal practice and the judiciary. "With all of the pressures inherent in law school, the benefit of having a real sense of community is a big plus," said Pregerson. "At King Hall, I was able to feel part of a community, and I still feel part of it to this day."