Naeha Prakash, Class of 2012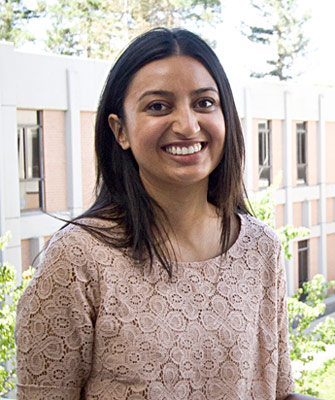 Hometown: Salt Lake City, UT
Undergrad: Georgetown University, B.A., English
Career interest: financial services regulation and securities law
Naeha Prakash '12 wanted her law school to be a place with a strong sense of community where she could find courses that allowed her to combine her interests in economics and international law. After she transferred to UC Davis School of Law from another California school following her first year of legal studies, that's exactly what she found at King Hall.
Coming to Davis turned out to be one of the best decisions I've made.
Prakash got interested in law after studying economics at Georgetown as an undergraduate and then working for the U.S. Department of the Treasury. "We were working to make sure banks were complying with the law and not discriminating against individuals on the basis of race or ethnicity, and I started to get interested not only in their compliance but also in the laws themselves," she said.
Prakash enrolled in a West Coast law school, but considered transferring after her first year. "I wanted a close community," she said, "and when I started looking at Davis, I realized they had a great reputation for that, but also had some great professors in the areas of law I was interested in."
She decided to transfer to UC Davis, and although she worried that it might be difficult coming to the Law School as a second-year student, she felt welcomed by the King Hall community. "Honestly, coming to Davis was the easiest transition I've ever had," she said. "Everyone was very friendly. I think it would have been a lot harder at other places."
Prakash was also impressed with the quality and accessibility of the King Hall faculty. In addition, she enjoyed competing in the Philip C. Jessup International Law Moot Court Competition. "It was great, because it was not only an opportunity to develop speaking skills and learn about international law, but also a really enjoyable experience, because you really get to know your teammates and you get to work very closely with your professors. It was a great thing to be part of."
Now, Prakash works the Consumer Finance Protection Bureau's Office of Fair Lending. "Coming to Davis turned out to be one of the best decisions I've made," she said. "It was a really great experience."