Amagda Pérez, Class of 1991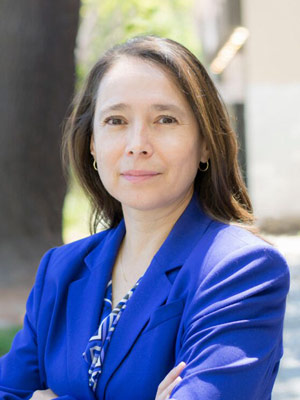 Amagda Pérez '91 is Co-Director of the UC Davis School of Law Immigration Law Clinic and Executive Director of the California Rural Legal Assistance Foundation, a non-profit legal service and advocacy organization that champions the rights of California's rural poor. At King Hall, she supervises second- and third-year law students as they prepare deportation defense cases. Through CRLAF, she gives King Hall students additional opportunities  to help real people with real problems as they learn invaluable lawyering skills, and help change the lives of those they serve.
What do you enjoy about your current work?
The privilege of working at both the Immigration Law Clinic and CRLAF allows me to create opportunities for law students to find their voices as advocates while providing high-quality services to our most vulnerable communities. Many of our students come from the same backgrounds as the communities we are serving. It's inspiring to see their leadership and advocacy skills grow because they are doing something that really motivates them.
Some of us come to law school with questions about whether we have the personality to be great lawyers. This kind of work—advocating for farm workers and other immigrants, giving workshops in rural communities—brings out the best in these students. The confidence and skill that law students gain in the Immigration Clinic are truly amazing.  I have greatly enjoyed watching students find their own voices and become exceptional lawyers.
What did you do after law school, and how did that lead into your current work?
I was a staff attorney for California Rural Legal Assistance where I did labor, education, housing, and legalization cases. CRLA provides legal services to low-income clients at 22 offices statewide.  I worked full-time for CRLA for two years until a part-time position opened at the Immigration Law Clinic and I was given the incredible opportunity to return to my law school as a supervising attorney and help develop one of the most comprehensive experiential learning opportunities for law students committed to social justice.  I continued to work at CRLA and the Immigration Law Clinic until 1996, when federal restrictions prohibited federally funded legal service organizations from representing undocumented immigrants.  In 1996, I went to work for CRLA Foundation, which doesn't receive federal funding and doesn't have those restrictions.  In 1997, I became Executive Director of CRLAF. In 2007, Jim Smith, the founder and director of the Immigration Law Clinic retired, and I became the director. 
What did you do before coming to King Hall as a student?
I grew up in Kelseyville, California, and went to UC Davis for college. I double-majored in Spanish and Chicano Studies, with an emphasis on Law and Society. At Davis, I became part of a strong community, so I was grateful for my admission to the School of Law. It meant that I could build on my work as an undergraduate student leader.
I had held various ASUCD positions, and I was one of the Chancellor's Student Ambassadors. I was also the inaugural female resident advisor for Casa Cuauhtémoc. We worked with Student Housing to create a residence that would help students transition to college and provide a network of support that helped retain first-generation students from immigrant families in college. For many of them, it was their first time away from home. It was amazing to see UC Davis committed to keeping talented students in college.
What is your favorite King Hall memory?
I have many favorite memories.  At the top of the list are the meaningful relationships with professors. The professors here do more than teach; they become your mentors. Professor Hogan was one of the most dynamic and talented. He knew I could be timid, so he would always give me the opportunity to share my thoughts: "Ms. Pérez, in a loud and booming voice, tell us what you think about this."
Professors Margaret Johns and James Smith were amazing mentors from day one. I was fortunate to have mentors who were exceptional teachers and experts in their fields.  They continue to be my strongest supporters to this day.
Another favorite memory was having the opportunity to represent a young man in removal proceedings with my clinic partner Carin Crain. Though most immigration hearings are at least three-hours, in fifteen minutes, the judge granted the case.  It was one of our most rewarding law school experiences to know that our young client would not have to live in fear of being persecuted by military forces in his own country.
One favorite memory came after I graduated. Kevin Johnson joined the faculty in my second year of law school, and I got to know him well.  When he received the Distinguished Teaching Award in 1993, I was selected to present it to him.  Although I was very nervous to present the award, I was honored to present such a prestigious awards to one of my mentors.
What class at King Hall served you well in your career choice?
Professor Jim Smith's Immigration Law class and class on Bilateral Relations: Mexico and the United States. Those classes gave me more exposure to the immigrant communities I was hoping to serve and to the global issues facing today's diverse society.
Did you participate in student organizations?
I co-chaired La Raza Law Students Association and was vice president of LSA. Of course, I was very involved in the Immigration Law Clinic. I was also in NLG, and I helped create the Diversity Coalition, which brought many organizations together.
Do you have any advice for students seeking jobs or internships?
It's really important for students to take advantage of networking opportunities with alumni. Do something meaningful. Clinics provide students with well-rounded experience that is transferable to any job. They learn to work with clients, do legal research, write, and relate with other people. Being able to show that they are motivated and good writers serves them well in the job search.
Do you have any other advice for current law students?
Stay true to who you are. Some students believe they have to be a certain way to be successful. It's the people who reach into who they truly are who become the best advocates in any setting. King Hall gives students opportunities for meaningful work and to shine in many ways. We have a national reputation for graduating really good lawyers who demonstrate professionalism and integrity.