Angela Oh, Class of 1986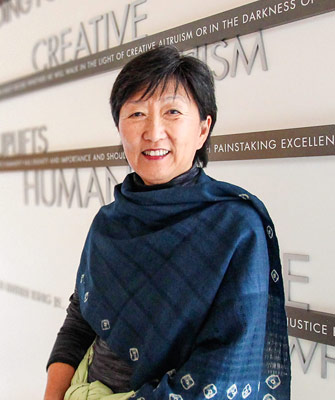 Angela Oh '86 is an attorney, public lecturer, community leader, social activist, writer, artist, and ordained student of Zen who has worked as a Lecturer on race and American law at UCLA, USC, and UC Irvine, a member of the Advisory Board of President Clinton's Initiative on Race, Executive Director of the Western Justice Center Foundation, and more. Today, she is an Attorney Mediator at the California Department of Fair Employment and Housing.
What did you do before coming to King Hall?
At the time I decided to apply I was working with the Federated Firefighters of California. I had a background in public health, so I was their Director of Occupational Safety and Health. Firefighters will risk life and limb to do their job, and in emergency situations they are so focused on helping others they can forget to do things like don their protective gear.  I spent a lot of time trying to convince firefighters up and down the state to do just that.  Because the organization I worked for was an advocacy organization that was working with the Legislature, I started thinking that I should know something about the law, and that's what led me to apply to King Hall.
What did you do after law school, and how did that lead into your work with the Clinton administration?
I was working in a boutique firm in downtown Los Angeles, and in 1992, when everything imploded and the riots occurred, ethnic Koreans were targeted.  At the time I was very involved in the Korean American community, and I had a longstanding interest in issues of race, police brutality, and community relations.  I was incoming President of the Korean American Bar Association of Southern California, and I was also working with a police misconduct referral service. I was called upon by national and international media, and I went into the proverbial vortex of being a public speaker.  A few years later, I was appointed by President Clinton to his Initiative on Race. Our task was to engage the American people in a dialogue on race relations as we were coming into the 21st century. 
What is your favorite thing about your current work?
All of the different roles I have played in my career are part of my very deep search for a space where people who have a conscience and an awareness of our common destiny can connect.  My main job is to work as a mediator in the largest civil rights enforcement agency in the state, which is the Department of Fair Employment and Housing.  I'm also working with my partner, the artist Tu-2, on a project that uses fine art as a means to teach Zen meditation.  We're working in schools and with courts that have alternative sentencing programs, and we're working with a nonprofit that serves adults who are newly emancipated from the foster care system. 
Who was your favorite King Hall professor?
I remember Emma Jordan. She was there for some of my friends who really needed support from the level of the faculty. She was a quiet and a very strong presence for them, and I know that because I feel her presence to this day.  I remember Floyd Shimomura, who went on to do great things with the California Attorney General's office.  I think about Marty West, who was the labor law professor at the time and one of the few voices that was very clear around issues of gender equality and working class people.
Did you participate in student organizations?
I was part of a group that started Davis Asians for Racial Equality. There were a number of us who had an awareness of the antipathy toward Asians in the whole race dialogue, and also an awareness of our own reluctance to see race as an issue that would affect us in our ability to live productive lives in this society, so it was an education that needed to happen both ways.
What is your favorite King Hall memory?
I loved the barbeques that APALSA used to do to raise money for our programs.  We would do teriyaki chicken lunches.  The students would come out and buy them, and we raised a lot of money.
Do you have any advice for current law students?
I want to say that everyone has their own way of doing the work. We have to cooperate with systems to the extent that systems don't allow for anything to happen outside the lines, but the lines are much further out than you think.