Monika Kalra Varma, Class of 2000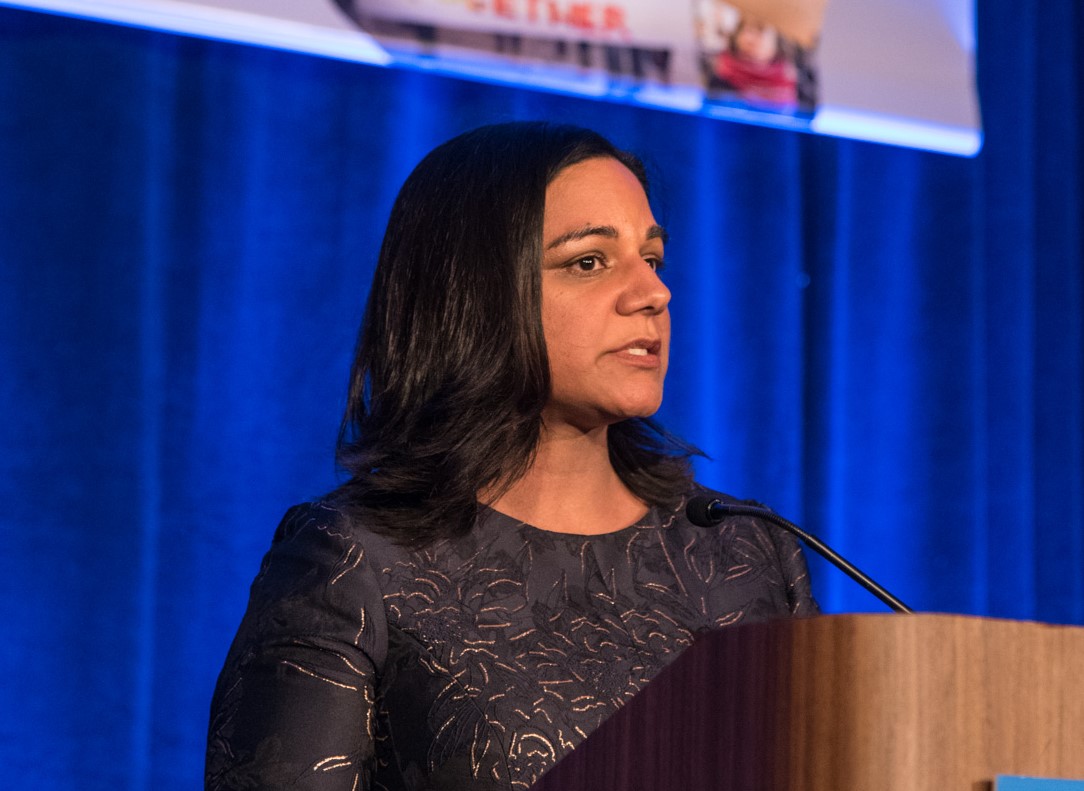 Monika Kalra Varma '00 is executive director of the Lawyers' Committee for Civil Rights of the San Francisco Bay Area, one of the oldest civil rights organizations on the West Coast. LCCRSF advances racial, economic, and immigrant justice by partnering with communities, training and supporting a network of pro bono attorneys and volunteers, and litigating and advocating for systemic change. Previously, she served as executive director of the D.C. Bar Pro Bono Center, the District of Columbia's largest provider of pro bono legal services. Prior to that, she directed the Center for Human Rights at the Robert F. Kennedy Center for Justice and Human Rights. Not long after graduating from King Hall, she was an associate legal officer with the office of the prosecutor at the U.N. War Crimes Tribunal for the former Yugoslavia.
Monika received King Hall's 2021 Distinguished Alumna Award. She has also received the 2016 South Asian Bar Association of North America's Public Interest Achievement Award and the 2019 Northern California South Asian Bar Association's Public Interest Award.
When did you realize that you were going to dedicate your career to human rights and social justice?
I think that was always my plan. I followed all the things that moved my heart. I was fortunate to get to work in those areas.
Growing up, I would visit India with my family. My mom always included service-focused time. Those are some of my earliest memories.
I came to law school knowing I wanted to go into public service. I studied human rights in Geneva and Strasbourg where a number of the people I met had worked in Rwanda. That led me to a clerkship at the Rwanda tribunal.
There have always been things from these experiences I couldn't shake. I wanted to try to do something. 
You've seen the worst, cruelest side of humanity. How do you keep the optimism you need to do this work?
I've spent most of my career following the things that broke my heart. I came back to the Bay Area and joined Lawyers' Committee wanting to focus on creating the world I want to raise my kids in.
You can't turn away when you work with people whose rights are being violated or who are struggling in ways that could happen to any of us. It's deeply fulfilling work. I've gained so much more than I've offered them.
You've worked in so many different areas of social justice, doing different kinds of work. Are you feeling a different energy recently among people who are working on these issues?
I feel it amongst newer attorneys. I am blown away on a daily basis and inspired by them. They are the fiercest, most courageous people. They're willing to take on any issue and truly believe in community-driven work. It's part of who they are.
Particularly in the last year, I have also been surprised and inspired by the unexpected corners of the world that are interested in social justice issues. I recently gave a talk to Apple packaging engineers. They asked thoughtful questions about white supremacy. I'm overwhelmed by seeing folks come together.
Of what accomplishment are you proudest?
My work at the Lawyers' Committee over the last few years. It feels like the  work most aligned with who I am that I've ever done. I loved and was inspired by everyone I worked with. We were able to do the fighting and resistance work while imagining and working towards creating a new world.
This last year, I was working from home, and my kids were going to school here at home with us. I'm proud that my husband and I are still standing.
Why did you choose to attend King Hall?
It had a different energy. Law school has a reputation of being cutthroat. King Hall was the opposite of that. It was a community and supportive. I still call on Dean Johnson for advice. I haven't made a career decision without checking in with Diane Amann, who was a King Hall professor. I sensed that it would be a community, and it's been so much more than I could have imagined.
What is your favorite King Hall memory?
Immigration Clinic. I spent so many nights in that office preparing for an asylum case. It was the most fulfilling thing in law school. Our client was from Somalia. It was a journey that was intense and powerful. By far, that's my best memory of King Hall.
How have you stayed involved with King Hall?
Every time I can bring in a King Hall alum, I do. We hire them as law clerks, fellows and staff, and I've done so in other organizations I worked in as well. It's been a real joy to be back in the Bay Area and feel that connection. I'm amazed by what the school has become. I'm blown away by the demographics. First-generation law students, students of color, this is what we need in the legal profession. Seeing them brought together is kind of amazing.
You're in the middle of a cross-country move. What's next?
At the end of June I will be transitioning from my role at LCCRSF to move back to Washington, DC with my family. Before beginning a new position, I look forward to taking a few months to pause and reflect and write about our work over the last few years. LCCRSF has gone through a transformational journey as an institution while taking on some of the most challenging human rights issues in our country. Along the way we created an organizational culture that centers the well-being of staff. I look forward to sharing our story with others.
Do you have any advice for current law students?
Treat the first five years out of law school as training. You're not doing the thing you will be doing for the rest of your career. Explore with curiosity and treat it as an opportunity to learn.
For students who are going into public interest, take care of your well-being. The sooner you understand and build in practices to care for yourself, the easier it will be to stay in the work.
Putting your heart and soul into your work is really a gift. Vicarious trauma is going to come and it can be really challenging when you're going through it. Learn what you need to do to care for yourself and to support the people around you going through it.
What else would you like readers to know?
I've been really fortunate in my career to get to do what I do. I feel very lucky. I feel that the work I'm doing is aligned with who I am and what I believe in.
** Update: King Hall is proud to note that Monika's successor as LCCRSF's executive director is also an alumna, Elica Vafaie '11.