Michael Satris, Class of 1975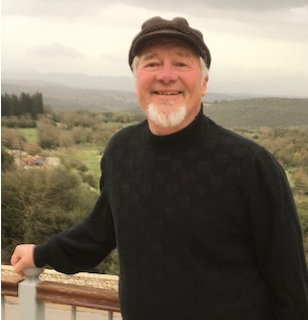 Michael Satris '75 liked to surf under the full moon at midnight. He enjoyed writing poetry, biking, and driving his convertible truck named Baby. He hosted spirited Friday-night ping-pong and darts competitions at "Club Mike," outdoors at his Bolinas home. He coached youth sports and a high school mock trial team. He loved his many friends and his family, including his wife Bonnie Jones, their daughters Marthine and Gigi, and their grandchildren Arun and Rhiannon. Maybe it took someone who lived life so fully to devote so much of himself to giving other people back their lives.
As the story goes, according to attorney Margaret Littlefield, a state Supreme Court chief justice once complained about a motion Michael had filed in a capital case. "Who does this Michael Satris think he is anyway," asked the chief justice, "a knight riding in on his white horse to save the day?" Margaret points out that Michael "indeed was just that to many."
In 1976, Michael and Paul Comiskey '75 rented a converted hot dog stand by San Quentin Prison for $50 a month and founded The Prison Law Office. At first, they focused on waging legal battles to improve conditions at San Quentin, and they succeeded. Later, Michael incorporated The Prison Law Office into a nonprofit and raised enough funds to expand its advocacy to prisons across California and into other states. Now based in Berkeley, it was the first private organization in the United States dedicated to representing prisoners in their challenges to conditions and terms of confinement. The organization also provides resources for other lawyers and prisoners.
Michael and Paul had met at King Hall, where, according to Paul, Michael became legendary: "He slept in his car on the parking lot during his first year and finished near the top of his class. My classmates and I followed like sheep into the bar review class after graduation, and Mike Satris grabbed an armful of outlines and headed for an island in Washington to study for the bar. Mike was tough, resilient and resourceful."
Michael started his own private criminal law practice in 1984. It was an unusually broad practice, encompassing parole hearings and both capital and noncapital appeals. He handled well over a dozen cases in the California Supreme Court and hundreds of appellate cases, as well as cases in trial courts and before the Board of Parole Hearings.
He became known for taking the "lifer hearings," representing prisoners who had no money and little hope of ever getting parole. His advocacy helped reform California's parole process, requiring parole decisions to consider the whole human being, not only the offense.
While Michael won landmark decisions challenging clients' convictions and sentences, he had also chosen areas of law where losses are common. When it happened, he consoled his clients with compassion. He often had to keep seeking parole for the same prisoner. Clarence Ray Allen, the last man executed in California, was one of Michael's clients.
Michael's wife Bonnie said that "he saw the best in everyone" and called himself "an old hippie."
Always professional inside the courthouse, Michael was often seen wearing flip-flops up the courthouse steps. His colleagues recall his graciousness to other lawyers, mentoring them, discussing legal issues and theories, even providing feedback on draft pleadings and briefs.
Michael's former paralegal and office manager, Sabine Jordan, recalled him hosting a "Lifer BBQ" for all the lifers released on parole and their families. "It was a truly memorable event. Many were now married or had children, and all were thriving."
Berkeley Law Death Penalty Clinic Professor Elisabeth Semel '75 said "a vital aspect of Mike's selflessness was his disinterest in public visibility or recognition. . . . For Mike, the reward was advocating for his clients individually and collectively." She called his activities with the Humane Prison Hospice Project "emblematic of his client-centered practice."
Sandra Fish, Assistant Director of the Humane Prison Hospice Project, says that it was Michael who motivated her work to bring hospice into prisons. She had done some end of life work, and one day she asked him, "So how are they dying in San Quentin?" He answered, "badly." Michael later joined the organization's advisory board and helped connect them with prisoners who needed their services.
Elisabeth's husband James Thomson, a capital defense lawyer, said, "Mike was always leading the charge for his client, never for himself. He was dedicated and driven, but at the pace of a six-foot swell. Mike was magical at work and in the surf."
Michael died suddenly on July 29, 2020, while biking near his home. The day he died, he filed a petition with the California Supreme Court for early parole consideration for four prisoners. He was also checking out the surf.