The Honorable Louis Mauro, Class of 1987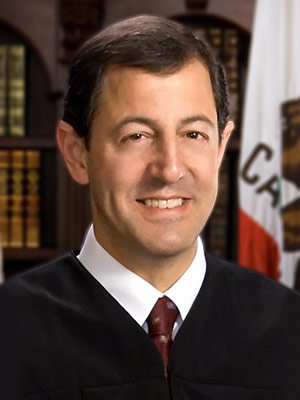 Louis Mauro '87 is an Associate Justice on the Third District Court of Appeal. Previously he was a judge on the Sacramento County Superior Court and before that, Chief Deputy Legal Affairs Secretary to Governor Arnold Schwarzenegger. This year, among other things, Justice Mauro served as President of the Anthony M. Kennedy Inn of Court and as a member of the Executive Committee and Executive Board of the California Judges Association.
What do you enjoy about your current work?
I'm fortunate to be able to work on interesting issues that matter to the parties and the people of California, and to work with justices and attorneys I like and respect. Best of all, my job is to do the right thing under the law.
What did you do before coming to King Hall?
After graduating from UC Santa Barbara I worked in a small law office for a year to observe the practice of law, earn some money, focus on the law school admission process and prepare myself for law school.
What did you do after law school, and how did that lead to your current work?
A judicial externship during law school led to a clerkship at the California Supreme Court. From there I worked in private practice and then joined the California Department of Justice, representing state constitutional officers and the California courts. I subsequently served as a member of Governor Schwarzenegger's senior staff as Chief Deputy Legal Affairs Secretary. The Governor ultimately appointed me to the Sacramento Superior Court and then the Court of Appeal.
What is your favorite King Hall memory?
I have many fond memories of King Hall. I enjoyed studying and collaborating with fellow students and learning how to think like a lawyer. But particular highlights were presenting oral argument to Justice Anthony Kennedy and other respected justices in moot court competition and serving as a judicial extern at the California Supreme Court, opportunities I wouldn't have received without King Hall encouragement and support.
What class at King Hall served you well in your career choice?
Every class served me well in contributing to my legal reasoning and knowledge. The substantive courses were essential, but other classes also helped me immeasurably. I try to draft judicial opinions with the clarity I learned in legal writing class, and the skills I developed in mock trial and moot court have been important in my career. In addition, I learned in my classes that preparation is key to success, and I still take to heart a professor's admonition in a procedure class that while it is good to be "smart" (i.e., technically proficient) we should always strive to be "wise" (i.e., to exercise sound judgment).
Who was your favorite King Hall professor?
I can't pick a favorite because there were so many outstanding professors who inspired me, advised me, supported me and gave me amazing opportunities. The King Hall faculty continues to be exceptional.
Did you participate in student organizations?
For the most part I focused on my studies, but I did spend extracurricular time as a member of a law school administrative committee, as a tutor, in moot court competition, as a bar review representative, and as a judicial extern.
How have you stayed involved with King Hall?
Our court has held oral arguments at King Hall and talked with students afterward about the appellate process. In addition, I have given presentations to King Hall classes, administered the oath to new lawyers at King Hall, judged moot court competitions, supervised King Hall students in judicial externships, participated in alumni lunches, and attended King Hall events.
Do you have any advice for current law students?
Yes, I encourage students to work hard and maintain their focus, but they should also pace themselves and take care of themselves, because law school is a marathon, not a sprint. In addition, it is certainly important to have mentors and role models, but students also need advocates. They earn their advocates by working hard, having a good attitude, and maintaining a commitment to excellence. If they do that, people will notice.
Is there anything else you would like to add?
King Hall is a very encouraging and supportive environment. That support comes from faculty, staff, fellow students, and also alums. I, like many others, remain committed to outreach and involvement in the King Hall community.