Kimberly Lucia, Class of 2009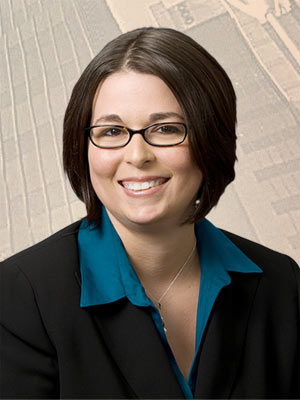 Kimberly Lucia '09 is an attorney and shareholder at Boutin Jones Inc. in Sacramento, where she is a member of the Employment Law and Litigation Practice Groups. She is also president of the King Hall Alumni Association Board of Directors.
What did you do after law school, and how did that lead into your current work?
I've been with Boutin Jones since graduating. I was a summer associate after my 2L year, and they made me an offer for a full-time job at the end of the summer. At first, I did general business litigation and employment law, but now I focus solely on employment law. I am privileged to work with a group of really smart, good attorneys who also happen to be great people. I enjoy practicing employment law because I believe that most employers are trying to do the right thing. The landscape of employment law in California is complicated. I appreciate being able to assist my clients with navigating that landscape in a way that makes sense for their businesses.
What did you do before coming to King Hall as a student?
When I was in graduate school for a masters in forensic psychology, I worked as a receptionist at a money management firm to pay the bills. I took a career turn and became an equity sales trader, spending eleven years in the financial industry. I had always thought about going to law school, but I thought I wanted to do criminal law. An internship in the San Francisco District Attorney's office convinced me I didn't. Then I discovered there were a lot of interesting areas in a civil practice and knew that was right for me.
What is your favorite King Hall memory?
Every single one of my favorite King Hall memories includes my amazing classmates. I miss seeing most of them on a regular basis. However, one memory that stands out is playing softball. It was fun and a nice way to decompress with my classmates outside of law school. It was also great to be in the law school environment during the Prop 8 election and the subsequent legal fight over gay marriage in California. Professors Alan Brownstein, Courtney Joslin and Carlton Larson would talk to us about the constitutional issues involved in a way that taught us legal concepts associated with such critical social issues. With the political climate today, I wish I could be back at the law school for those discussions.
What class at King Hall served you well in your career choice?
All of them. Employment Discrimination with Professor Joslin and Civil Procedure with Professor Thomas Main were foundational to the litigation and employment advice work I do now. The great majority of my classes taught me to think like a lawyer.
Who was your favorite King Hall professor?
Too many! I loved Professors Robert Hillman and Joel Dobris. They are great professors and smart men, but they also gave me a lot of practical advice for my career. Professor Joslin and Professor Donna Shestowsky were two more of my favorites. I was a research assistant for Professor Shestowsky, and I took several of her classes. Now I consider her a friend and I am honored to come back and speak to her Negotiations classes each year.
Did you participate in student organizations?
I was a Senior Notes and Comments Editor on Law Review, which I really enjoyed. I was involved in the Lambda Law Students, and I was president my 2L year. I also worked with the King Hall Legal Foundation my first year and was very involved with the Student Alumni Outreach Committee in my third year.
Law Review was a great investment in my future. It helped me be a better writer. Lambda was a valuable resource and a source of support during a time of upheaval and uncertainty in the gay rights movement.
How have you stayed involved with King Hall?
I've been on the alumni board for years, and now I'm president. You can tell this is an interest of mine, because I went from alumni outreach as a student to the alumni board as a graduate. I firmly believe that alumni are a great resource for students and that staying connected to the law school following graduation is a critical component to its continued success.
I have also been part of my firm's on-campus interviewing team for the last eight years. I do my best to participate in events that help train law students, including by serving as a judge for Negotiations and Moot Court competitions. I am also fortunate enough to have the support of my firm in these endeavors, and Boutin Jones is a frequent sponsor for a variety of King Hall alumni-student mixers and admitted student events.
Do you have any advice for current law students?
Work hard and have fun. Use the law school experience to explore different areas of the law. Savor the time you have to spend on multiple legal issues. In your career, there will be a lot of pressure to specialize and you will not always have the time you do now to spend on learning things outside of your practice area.
Get to know your professors and stay in touch with your classmates. And be sure to utilize alumni. We're here for you.