Laura Liswood, Class of 1974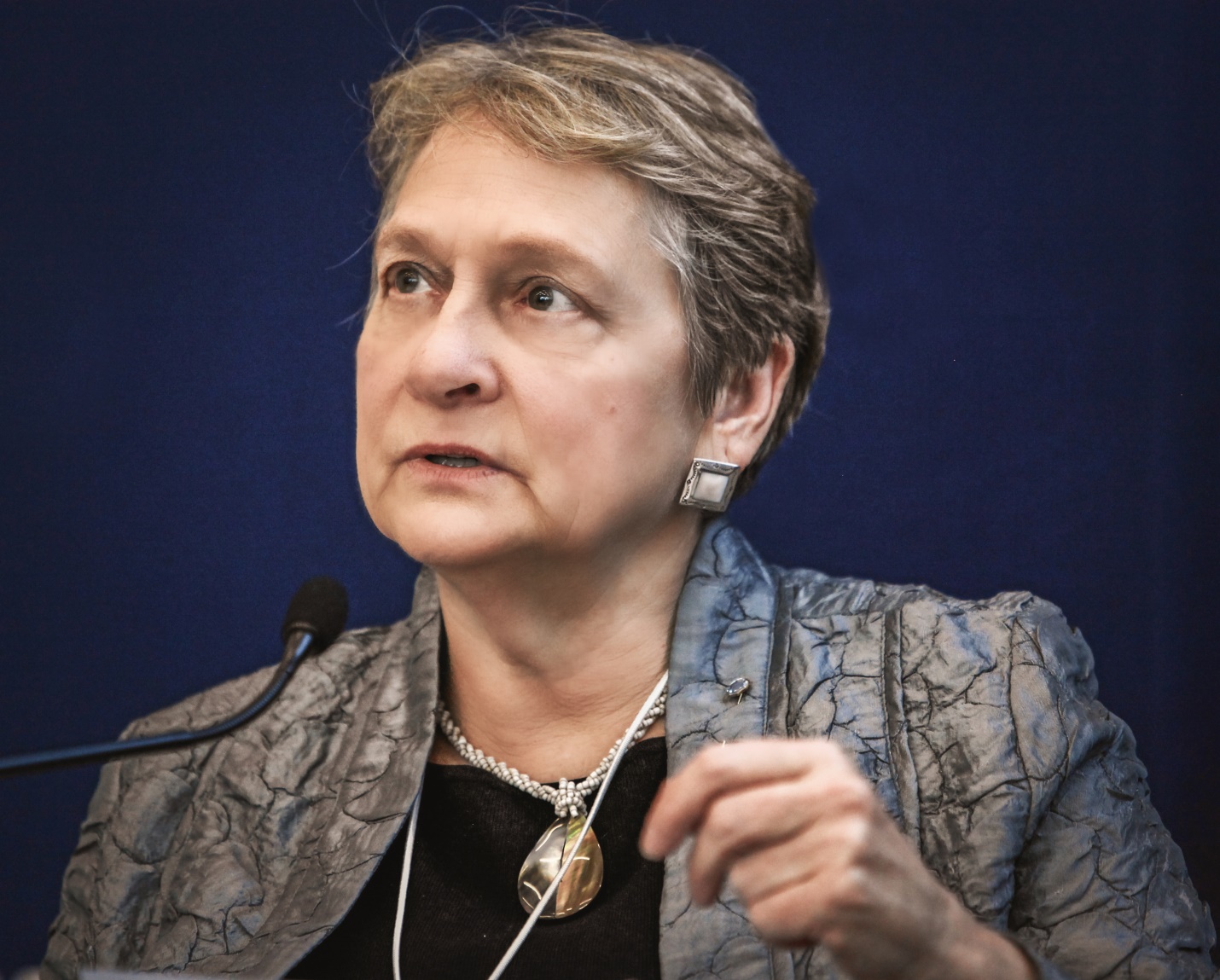 Laura Liswood '74 is the Secretary General and co-founder of the Council of Women World Leaders, an organization of women presidents, prime ministers and heads of government. As director of the Women's Leadership Project, she interviewed the fifteen then-living current and former women presidents and prime ministers. Those interviews became her book and video documentary, Women World Leaders. She also co-founded The White House Project, dedicated to electing a woman President of the United States.

Liswood received the UC Davis School of Law Second Annual Distinguished Alumni Award in 1994. She has been Goldman Sachs's Senior Advisor for Global Leadership and Diversity and held executive positions in the banking, cable and airline industries. After September 11, she joined the Washington, D.C. reserve police force, from which she recently retired as a Sergeant. Her latest book is The Loudest Duck: Moving Beyond Diversity While Embracing Differences to Achieve Success at Work.

Was there a particular moment when you decided to devote your career to women's leadership?
I've always been somewhat interested, but it probably crystallized after I went to UC Davis. I worked at a law firm that specialized in civil rights discrimination law. That was where I first really came to understand the issues and challenges. Then I kept going. As I read about the issue, my interest started motivating me more and more.
I started a magazine called Seattle Woman. I also wrote a newspaper column, "The Briefcase," in which I addressed challenges for women. It was syndicated in about a dozen papers across the country. Then I became interested in women who were heads of state.
In the time that you've been working on these issues, how have the challenges changed?
They have and they haven't. I thought they would change more rapidly than they have. It's important that military academies and combat have opened up to women. Medical, business and law schools are more accepting. Some of them are fifty-fifty now, or even have more women than men.
On the other hand, a lot of women have stopped at middle management. We moved up the pyramid, but we stalled mid-pyramid.
Change hasn't happened as fast as I thought it would. For example, look at the number of women in Congress. I applaud the recent gains, but, relative to other countries, it's twenty percent in Congress versus thirty, forty or fifty percent in other countries.
On everyone's mind, there's the MeToo movement. It's doing good things. On the other hand, we still need the MeToo movement. The notion of changing gender roles is hard for many men to embrace. Women on social media are attacked at awful levels.
The good news is that we have a lot more data. The data is far more granular. Now we know it. The bad news is that we're not acting on it yet.
Where were you when the election results came in on November 8, 2016? What was your reaction?
Oh! It's seared into my psyche. I was at a house party. It was all enthusiastic and upbeat until about 10:00. Then it was like watching the air go out of a balloon. By 11:00, we were all stunned.
The next day, it felt like I had just walked onto an alien planet. I was talking to a woman who was a fast food worker. I asked her, "How are you?" She just looked at me and said, "Really?"
You've met many fascinating world leaders. What was the conversation that surprised you the most?
It was an accumulation of surprise. So many women were saying the same things. They talked about the overscrutiny. They said their mistakes were tolerated less than men's.
It's healthy to have more than one woman running for office. There's less overscrutiny than when there's only one.
None of them said, "Why are you asking gender disaggregation questions?" There was a lot of, "Yeah. We can relate. We can talk about it."
I also thought it was interesting that most of them had someone in their family involved in politics. Even Margaret Thatcher's dad was mayor of Grantham. Familiarity demystifies any occupation. I call it the Uncle Fred Theory. If Uncle Fred the idiot can run for office, then I can.
One third of the women came to power after their husband or father was assassinated. That's how it was possible for Bangladesh and Pakistan to have women prime ministers. Women also come to power when there's a crisis. It's the "glass cliff" or "crumbling cliff." Women are from an out-of-power group, so they represent change. They come to power when people are looking for change.
I once bicycled across Siberia. (Don't do it.) The next year, I bicycled the Silk Road. It was an adventure. What I ended up doing was living with fear every day. I learned to harness fear, or I would have been exhausted every day. That was how I was able to meet heads of state. I was fearful, but I knew how to deal with it. If I hadn't asked, the answer would always be no.
At the time, there were fifteen living women heads of state. Eighteen months later, I had met all of them. When I first asked Margaret Thatcher, she told me to come back to her after I had met everyone else. I did, and she was true to her word.
I was at a Council of Women World Leaders event yesterday at the U.N. Seventy-five women members came; they were presidents and prime ministers.
What did you think you were going to do when you started law school? What did you do after law school?
As an undergrad, I had been actively involved in San Diego politics. I noticed that a disproportionate number of people involved in politics had law degrees. I chose Davis because the school was much more on the cutting edge, with Indian law, environmental law, and women's rights law. The school had carved itself a niche compared to Boalt. It was also a Moot Court champion, even at that young age.
I received an excellent education. I learned to think. I thought of it as going in as chuck steak and coming out as hamburger meat. I had fabulous professors and classmates who I treasure.
I was not as excited about practicing law. To me, it was a reactive occupation. People come to you with their problems. You're not creating something on your own.
Also, with a law degree, I could only read one half of the Wall Street Journal and understand it. I wanted to understand the other half, and that required getting an MBA. On the other hand, I knew I couldn't keep postponing the world. I decided if I couldn't get into Harvard Business School, I wouldn't go at all. I got in. It was similar to Davis in that I met extraordinary people.
My law degree gave me such credibility, such capacity. Business school didn't focus so much on the ability to write and to think logically. My mind was already disciplined. I encourage people to do both the JD and the MBA. I have close friends from both.
What King Hall class had the most impact on your career?
Dan Fessman was a great Contracts professor. He had a dry wit and kept us entertained. Jack Ayre taught Moot Court. Once, after I replied to a question, I remember him shaking his head and saying, "Well, Miss Liswood, that was a responsive answer."
What is your favorite King Hall memory?
Leaving aside the parties . . . There were lots of parties. Third year, we cleaned up. We thought we would be investigated for the bar.
Thelma Kido, the Registrar, was a mother hen for all the students. We would come into the office with some cockamamie problem. She would either calm us down or help solve the problem.
In Professor Feeney's Criminal Law class, people would rush into the classroom, do something, and run out. We were the eye witnesses. Of course, no one agrees what they saw.
Did you participate in student organizations?
Moot Court. Otherwise, I had to work. I had no money. It wasn't easy. I did research jobs on campus, not law, and also menial jobs.
Do you have any advice for current law students?
Anything that allows you to practice, like Moot Court, you will find valuable. Otherwise, law can be abstract.
Stay in contact with other students. Widen your circle. Extra-curriculars are important.
The purpose of the law is to better society. Always remember that if you really want to make a difference and be a leader, do it with passion. Whatever you do, make sure you are passionate about what you are doing. Engage because it means something to you.