Linda Somers Smith , Class of 1986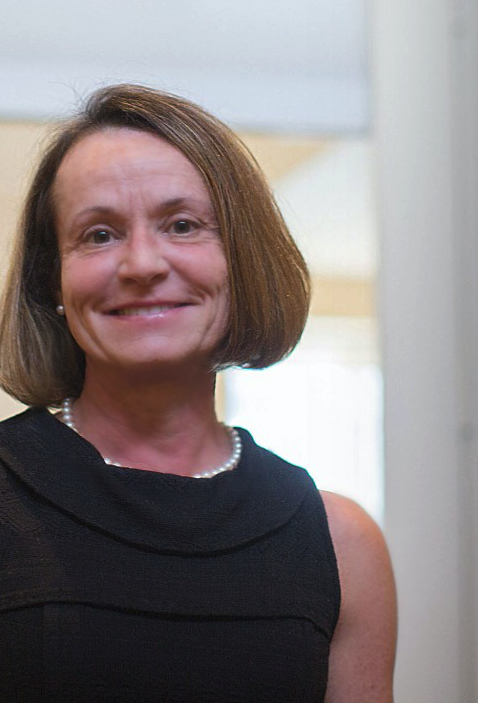 Linda Somers Smith '86 is a partner at Adamski Moroski Madden Cumberland & Green LLP in San Luis Obispo. She is also a two-time United States champion marathon runner who competed in the 1996 Summer Olympics and won the 1992 Chicago Marathon and the 1993 California International Marathon. Over her career, she was the first track athlete to qualify for seven U.S. Olympic trials.
How did running become such an important part of your life?
By accident. I started as a junior at UC Davis. I had grown up swimming and playing tennis. In a PE class at UC Davis, the teaching assistant who was involved with track asked if I had ever tried running; I had not, but she encouraged me to go out for the cross-country team and I was hooked. I ran my junior and senior year at UC Davis, with All American Honors both years; it turned out I was good at it.
Many people in law are a little Type A, and running is a Type A activity. It's a very efficient form of exercise and stress release: you can put relatively little time into it to get a lot out of it for your mental and physical health. It fit in with my legal work.
During law school, I had a knee problem, so my doctor told me I had to stop running. I wasn't encouraged to do anything about it and settled for running having been a distraction, and I focused on law school. Later, I talked to people who told me I should not accept one doctors opinion. A orthopedist associated with UC Davis told me he could  fix the problem, and he did. Eventually, I went on to make the Olympic team.
What have you learned from competing in the Olympics and so many marathons?
It's about goal setting. You can have talent and work hard, but it's not enough. You can't just run every day and expect to make an Olympic Team; you have to plan  and execute it.
It's the same with legal work. There are few easy answers and no easy cases.  You have a lot of distractions and times when it's easier to do anything but work on a case. Ultimately, avoidance just complicates your life and can prolong the unpleasant aspects of work.  In competition and at work, I find it best to define the result I want and  then execute a plan to get there. I don't stop because it's hard or I don't know the answer.
It's about planning and executing. Every single day, with every case, with every client, you need exactly the same skills.
Why did you decide to be a lawyer, and why did you choose King Hall?
My achievements in life have been a little bit accidental, though some intentional, even if naive in origin.  This year is my fortieth high school reunion. Somebody shared an article about me from high school, in which I said I was going to go to UC Davis, major in economics, and go to law school. That's exactly what I did.  Why I decided that in high school or set that goal is beyond me now.  I didn't know anything about being a lawyer. I didn't know any lawyers. I didn't have any mentors or role models who were lawyers.
I went to Duke Law School for my first year, but got married after my first year and my husband worked at UC Davis, so I transferred back to Davis. That was for the best as I believe I ended up in exactly the  right place. A different school might not have flipped the switch I needed, which was to figure out what and why I wanted the things I wanted and not what I thought I wanted. It was an accident, but it was the best law school for me.
Davis for me was about personal development. The school focuses on teaching you "who are you" personally and in terms of your place in the world or in a career. I felt everyone there focused on personal development so that you can be the best lawyer you can be; one that fits your personality. That approach is invaluable in turning out good attorneys.
What do you enjoy about the type of law you do?
I like transactions, which are putting things together. I like building transactions. I like analyzing pressure points and resolving them. Transactions are about both sides going away happy. Maybe they didn't get the deal they wanted, but they got the deal they needed. I like a successful deal.
I started in education law. That morphed into health law, did some estate planning, started focusing on real estate law and business law once I was in San Luis Obispo.  I have a very general background, but also deep knowledge of many areas because I make sure I learn all I can about the issues before me. I can handle almost anything, because I want to know all about it. I ask, "what are the details here?" Then, I find the answers.
On some deals, the other side may have five attorneys on its side, each handling different aspects, such as tax issues, real estate issues, compliance, etc. And on my side, it's me.
What is your proudest accomplishment?
People helped me, but I never really had a consistent mentor or a female role model in law or in running. I had to determine my path on my own. I feel like I had to really do a lot of learning by trial and error and perseverance, and nothing was handed to me; I had to take it. 
While the profession has changed, if a woman has a child and another career (running, in my case), in law, these are distractions from billable hours and private practice is, to a large extent, about billable hours.  I have had to invent how I practiced to accommodate what was best for me while also fitting into the legal profession.
I was able to create my own reality where there wasn't one. Davis trained me to be able to do that. I still do it.
What is your favorite King Hall memory?
I have fond memories of Professors Rex Perschbacher and Martha West. They wanted you to be a good person. It was about developing as a full person. They had just started the Client Counseling Competition. It was exciting, applying the law to practical, real-world problems and getting daily input. I discovered, "This is what I want to do."
What class at King Hall served you well in your career?
Over time, it's been different classes. When I took the bar exam, it was Real Property. That was the big emphasis that year. I left thinking, "I know all this!"
My first year working, it was my Administrative Law classes. Since then, it's been Professor Ripley's Mediation class. We practiced mock mediations with real-world client issues. I loved it.
How have you stayed involved with King Hall?
I was on the planning committee for our reunion. I encouraged my classmates to participate and contribute to our fund.
Do you have any advice for current law students?
Don't try to fit a square peg in a round hole. Any personality can be a good lawyer. Don't try to change your personality. Apply it to the type of law that is most comfortable for you. Grow and experience different things, but don't try to be somebody you're not. If you aren't comfortable with public speaking, you don't need to be a litigator. You can still be a transaction lawyer, a constitutional lawyer, an appellate lawyer. If you don't like billable hours, there are other options.
There is so much opportunity in law. You don't need to be miserable, but I see a lot of it. It comes from people trying to be what they think they need to be. When your life and worth are tied to billable hours, it's unhealthy. You can succeed in so many ways.