Maggy Krell, Class of 2003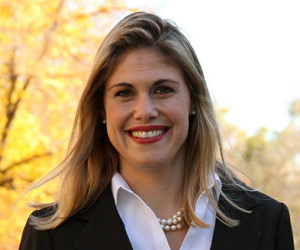 Maggy Krell ′03 is Chief Legal Counsel at Planned Parenthood Affiliates of California. Previously, she served as Supervising Deputy Attorney General at the California Department of Justice, and prior to that, as a deputy district attorney. 

What do you enjoy about your job?
From a legal standpoint, being in-house at Planned Parenthood gives me opportunities to be creative, to think outside the box, to be bold.  I'm grateful to be doing impactful work, on behalf of an organization that has not only provided quality healthcare to millions of people but also is part of a broader movement. 
What drew you to Planned Parenthood?
I had been a prosecutor for 15 years. My most meaningful work centered around human trafficking cases, banding with survivors and fighting for the rights of the most vulnerable victims, many of them being young teenage girls.  This Administration has consistently pushed policies that would put their lives and the lives of many impoverished women at risk.  I came to Planned Parenthood to fight back.
How does the current political climate affect your work?
Since day one, this administration has put a target on Planned Parenthood and the patients we serve. The President has shown a pernicious disregard for the lives of poor women. My job is to use every legal tool in our arsenal to protect our health centers from defunding, our patients from losing access to life-saving services, our doctors from being gagged from mentioning abortion, and so on.  These are tough fights, but we have the benefit of hundreds of thousands of people across the country who support Planned Parenthood. 
After being a prosecutor for 15 years, has becoming Chief Legal Counsel been a big adjustment?
It really has. Being in-house counsel at a non-profit is quite different than working in law enforcement. The culture is very, very different. The areas of law are different and I'm facing new challenges at a time when the stakes couldn't be higher. But my time at DOJ prepared me to take on these challenges, to problem-solve, to navigate large coalitions, and of course, to litigate tough cases in court.
What is your favorite King Hall memory?
Many, but the best night of King Hall was the night I met Cary Huxsoll ′04 at law school bowling. By ′06, we were married and the rest is history. But I also really liked the Mock Trial Team.
What class at King Hall served you well in your career?
Constitutional law.  I have had to dust it off quite a bit recently!
Did you participate in student organizations besides Trial Team?
I was on the Moot Court Board and the Trial Board. I also did internships at the Sacramento District Attorney's office and the California District Attorneys' Association.
How have you stayed involved with King Hall?
I've valued being able to partner with the law school as an alumna. When I was still at DOJ, prosecuting a fraud case where the defendant was taking advantage of and stealing from vulnerable immigrants, the Immigration Clinic took on
representation
of the immigrant victims.  This summer I went to Texas with fellow ′03 alum, Clara Levers as a volunteer attorney to help immigrant families separated by the federal government. We were able to call the clinic for support.
I have enjoyed teaching trial practice over the years, serving as a moot court judge, and mentoring King Hall students and newish King Hall attorneys. 
Do you have any advice for current law students?
Enjoy your time and absorb as much as you can. Worry less about finals and more about the relationships you are building.  Leave the world a little more just than you found it.