Judge David Rosenberg, Class of 1974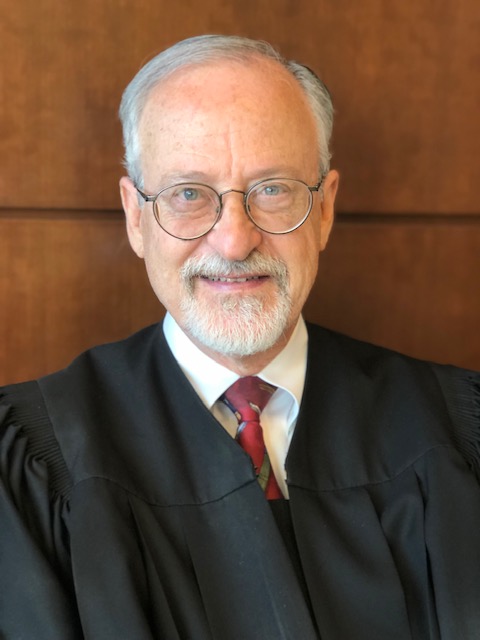 Judge David Rosenberg '74 has served at the Superior Court of California, County of Yolo, since 2003. He runs a felony trial calendar and also presides over the Yolo County Mental Health Court. He served as Presiding Judge of the Yolo Superior Court for three terms, and also served as a member of the California Judicial Council. Currently, he serves as Chair of the Audit Committee of the California Court system, responsible for auditing all 58 Superior Courts, the Courts of Appeal and the Supreme Court. He has also been Mayor of Davis, a Yolo County Supervisor, Deputy Executive Secretary and Chief of Staff to Governor Jerry Brown, Senior Advisor and Director of Operations to Governor Gray Davis, and chair of several commissions, boards, and committees. He is very involved in civic organizations, having served as Grand Master of California for the Independent Order of Odd Fellows. Judge Rosenberg has published four books. He received the 2012 Humanitarian of the Year Award from the California Judges Association. He also used to debate Rush Limbaugh.
You've had an unusually broad record of public service: mayor, county supervisor, working for two governors, and now judge. How has that breadth of experience influenced you as a judge?
I've had a fair amount of seasoning and life experience. That's really helped me as a judge. I was fifty-seven when I first assumed a judicial position. That's a good thing. It's good to have that level of seasoning to better understand the human condition.
What do you wish the public knew about mental health courts?
Everything. Mental health is still the medical and societal issue that is least understood by the public. Yet it is so prevalent. I used to preside over Drug Court, now called Addiction Intervention Court. Addiction is also far more prevalent than people realize. Mental health issues and addiction transcend gender, age, ethnicity, religion. Everyone is susceptible. Many people cope with it, and some live with demons. Society often first becomes aware of issues when a crime is committed. Mental health courts are relatively new in the criminal justice system, only going back maybe twenty years. We take a team approach in mental health court, rather than the traditional adversarial approach.
I was concerned about this issue well before I took over the Mental Health Court. That's part of seasoning. I was well aware of issues people face in the criminal justice system. Only a small smattering of people commit crimes because they are hardened criminals. The rest are under the influence of drugs, alcohol, homelessness, mental health issues, poverty, developmental disabilities, racism. In the criminal court system, you eventually see all the ills of society.
What sustains your faith in the justice system?
I believe in fairness, law and justice. Everyone in court, be they victim, defendant, or the family of the victim or the defendant, everyone is entitled to these things. I feel I have the skills and the background to do that. I'm 74 and I could have retired years ago, but I feel I can still make a difference. If people leave my courtroom feeling that I listened to them, I followed the law, I treated them fairly, and justice was served — I am satisfied. I have a responsibility to continue doing this work as long as I continue breathing. A little gray hair never hurt.
What else has influenced you as a judge?
My parents were Holocaust survivors. They were liberated from a concentration camp one year before I was born. I was three when I came to the United States, in 1949. I couldn't speak a word of English. I grew up poor, moving from place to place. As a Jewish family, we faced poverty and discrimination. All those factors influence you. They are part of the fabric of one's life. It gives me a perspective of the human condition and adds to my understanding people who appear before me in court. 
What have been some of the challenges of being a judge during a pandemic?
The biggest single challenge has been the lack of human contact. Yolo County continued to operate the court virtually non-stop. We operate via Zoom. But two-dimensional court is inferior to three-dimensional court. It's the difference between having a conversation with people face-to-face or watching them on television. In Mental Health Court, normally there are occasions when I come off the bench to give people a hug or a pat on the back. On Zoom, I can click on the applauding hands or the thumbs up icon, but it's not the same. When I have to commend someone for good work or impose a sanction for bad conduct, I prefer explaining why I'm doing it eye-to-eye.
Why did you write Rosenberg's Rules of Order?
When I was mayor of Davis, one of my goals was to make sure all of the committees and commissions were public friendly and user friendly. I invited all the chairs and vice chairs to a session on parliamentary process. When the public doesn't know the rules, they can't participate. And some people who think they know the rules lord it over the others. The session was very well-received, so I did it again the next year. This time the chairs and vice chairs invited their counterparts from other cities. I was asked to do it again the next year, but I couldn't. I had another commitment. So I wrote it down.
The League of California Cities asked to publish what I wrote. They charge a nominal fee, which all goes to the league. Then they put it on the Internet. Within a year, it had been adopted by hundreds of cities, counties, commissions, corporations, and clubs all over the United States. They used it in lieu of Robert's Rules of Order. I still get calls with questions. I'm the local parliamentary procedure guru.
It's not in conflict with Robert's Rules. It's just simplified. You can read it in twenty minutes and be equipped for 99% of what you will face on the rules of parliamentary procedure. I feel I elevated the level of public understanding and transparency.
Tell us about your televised debates.
For one year I debated Rush Limbaugh on television. In 1987, I was mayor of Davis. In my legal practice at the time, Channel 13 (the local ABC affiliate in Sacramento) was a client. They wanted to do a segment on the evening news that would feature a local political debate. Limbaugh was the Wunderkind for conservatives. They needed a liberal, and the station owner suggested me. The debates were twice a week for four minutes — live, unscripted, and unrehearsed — it was old-style television. They called it, "At Odds." The news anchor would throw a question out about a hot political issue of the day — and Limbaugh and I would debate it. As it turned out, we never agreed on anything, but it was a civil debate. At the end of each debate, the viewers got to vote. Soon after that, Limbaugh moved to New York. Perhaps I chased him out of town.
Why did you choose King Hall?
I was finishing my time as a lieutenant in the U.S. Army — I was based in Germany during the Vietnam War era. I had limited access to law school catalogs. (No internet then.) King Hall was one of the catalogs that was available to me. It had panache because it was so new. I liked being at something at its inception, and I liked its smallness. My wife (now of 51 years) was pregnant. Attending a small school with small classes in a small town made sense at the time.
After graduating, I stayed in Davis. The trajectory of my life was established. It would have been quite different if I had gone to Hastings. I probably would have wound up in a big San Francisco firm doing corporate law. In Davis, close to Sacramento, my involvements were political. As it turned out, I never did just one thing at a time. For example, while I was practicing law, I also served in local elected office. And while working for Governor Davis, I was a Yolo County Supervisor, Chairman of the California Lottery, Chairman of the Government Claims and Victim Compensation Board, and Chairman of a regional air board — all simultaneously. I was carrying five cell phones to keep everything separate. I remember remarking, with some level of longing, that "someday I'll have just one job." That day happened when I was appointed as a Judge of the Superior Court. But even then, I wound up multi-tasking in the judicial branch.
What is your favorite King Hall memory?
I enjoyed Trial Practice — I chaired the Trial Practice committee. I was also on Moot Court, but I liked the "Sturm und Drang" of Trial Practice.
I also started Cardozorama back in the miasma of the 1970s. We had so much talent at King Hall. While I had limited musical talents, I was a pretty decent organizer. The name just seemed to resonate with me: we had Cinerama, Panorama, why not Cardozorama. Justice Cardozo's name alliterated beautifully. I was delighted to hear that it has continued. It shows law students are multidimensional. [Cardozorama was renamed Aokirama in 2011, in honor of late Professor Keith Aoki.
Of what accomplishment are you proudest?
I married well. After 51 years, we still get along. I'm proud of my kids and my grandkids. I've written four books. I'm writing my autobiography now. I'm proud to have served on the Judicial Council with the Chief Justice during challenging and difficult times. I've served on the senior staffs of two governors. I've been a judge, a county supervisor, a mayor. I'm also proud of the Law School. It reflects well on all of us that it is so committed to diversity.
Do you have any advice for current law students?
Number one, don't go to law school if you don't want to be a lawyer. Number two, if you do want to be a lawyer, you have to decide if you want to be a desk lawyer or a trial lawyer. If your aptitude is as a desk lawyer, you will be very unhappy as a trial lawyer. If your aptitude is as a trial lawyer, you will be unhappy as a desk lawyer. Know yourself; know your skills and you will find the law to be a rewarding career; it can even be a satisfying career if you use your skills and power as a lawyer to improve the society in which you live.