Karen Johnson-McKewan, Class of 1985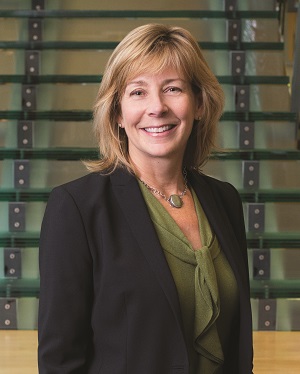 Karen Johnson-McKewan '85 is a partner at Orrick in San Francisco. She specializes in litigation and has represented Oracle, NVIDIA, Netflix, Wells Fargo and Levi Strauss & Co. She also devotes her time to pro bono work and to heading The Marine Mammal Center board of directors.

What do you enjoy about your work?
Just about all of it. Of the things I like most: I love writing—so it's good that I do a lot of it. I love working with younger attorneys who are still learning. It's fun to teach them and watch their progress. I love getting really hairy problems from clients, because they're fun to solve.
What are you proudest of in your career?
I have great, diverse teams of people who are collaborative, successful and supportive of one another. To the extent I can take credit, I'm proud of leading well-functioning, happy teams even under time-consuming, stressful circumstances.
Was there a moment when you decided you were a litigator?
It happened when I was a summer associate between second and third year. As an undergrad, I had been a journalist with the Aggie, the Davis Enterprise and the wire services, stringing. I always had a love of writing. I realized that the skills I had developed as a reporter were relevant to litigation: interviewing people and presenting information in a clear, direct, organized way. I enjoyed the advocacy piece. I enjoyed performance. That goes back to competing in speech and debate in high school. My personality type and skill set were more relevant to litigation than to transactional work. I like telling stories, and I get to do it in litigation.
What made you decide to come to King Hall?
I loved Davis. I was an undergrad at UC Davis, and I married right after college and was living in Davis already. I had also lived there as a kid, while my father got his doctorate. I was delighted to stay. All the pieces fit together. It was the perfect school for me.
I wanted to go to law school because I thought it would lead to a better job in journalism. A lot of what happens in the United States is a product of our legal system. The rules of society are established through our legal system. And I didn't understand it. To be an effective journalist, whether I was covering the courts or politics, I needed to understand the law better. I thought it would give me a leg up to have a law degree.
I discovered that litigation was more fun than journalism. It was also a more stable career. I could set down roots, unlike journalists, who often have to go from place to place to find the next promotion.
What is your favorite King Hall memory?
Cardozorama. It was so much fun. I never performed in it, but I really enjoyed the shows.
Also, Professor Wydick's Anti-Trust class and Professor Dobris's Property class. I loved it when that little lightbulb went off when I understood something.
And I have happy memories of spending time with my carrel-mate from my second year, Beth Inadomi. She was and is a great friend. Now she's on The Marine Mammal Center board of directors with me.
How have you stayed involved with King Hall?
I was on the Dean's Advisory Council. Dean Kevin Johnson is one of the most inspiring people to sit in that position. He is extraordinary, and he has great ambitions for the law school.
I make financial contributions. I interview for Orrick on campus. This year, I spoke about careers in big law on a panel at orientation. Any excuse to go back to Davis is okay by me.
What else should readers know about you?
I care a lot about pro bono. Dean Bartosic used to tell us, "You're in law school now. This is an opportunity to do well for yourself. Don't forget also to do good." It's important to contribute skills, time and resources back to the community by doing pro bono work.
We just won a case for Planned Parenthood of Indiana and Kentucky. I'm also representing the Animal Legal Defense Fund. I love my paying clients, but I also know my skills are too expensive for most people who need them. Pro bono work is the most emotionally rewarding stuff that I do.
Do you have any advice for current law students?
Follow your passions, but be open to opportunity as it comes. If you have a specific passion, then it will make for a satisfying legal career. If you don't, be open to any opportunities that may present themselves. Go through doors as they open up. Law will give you a lifetime of intellectual challenges and great opportunities to do good in the world. At this moment in history, lawyers are more needed than ever before. Lawyers are situated to aid the people who need it most. They are critical. Go to law school, get your degree and follow your passions.