Beth Inadomi, Class of 1985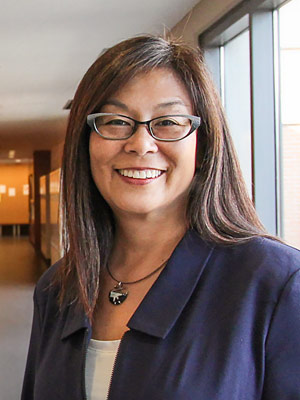 Beth Inadomi '85 is a principal at the Podesta Group, a bipartisan public affairs and lobbying firm. She specializes in clean technology, information technology, biotechnology, and aerospace. Previously, she served as counsel for the U.S. Senate Committee on Commerce, Science, and Transportation and the U.S. House Subcommittee on Science, Space, and Technology. She also led external relations for the NASA Ames Research Center. She currently serves on the King Hall Alumni Association Board of Directors.
What do you enjoy about your current work?
I work on the front end of the law, setting the policy. I help clients by shaping public policy in the area of emerging technologies. I focus on how the regulatory or legislative environment takes account of the technology that is changing our world.
What led you to your current work?
I was fortunate King Hall offered a class in the law of outer space. It was taught by a visiting professor, Hamilton DeSaussure and it was there I learned about opportunities to work at the front end of the law. Along the way, I discovered I like shaping policies and crafting legislation and then framing the regulations for interpreting the laws.
Space law didn't have much case law. That left it wide open for figuring out how to help shape it. The class showed me a way to leverage my legal education beyond more traditional legal careers.
I wrote a Law Review note with Susan Freeman: "Who's the Captain Kirk of this Enterprise?: Regulating Outer Space Industry Through Corporate Structures" (18 UC Davis L. Rev. 795 (1985)). In researching our note, we talked to people on the ground floor of figuring out how to think of governing in outer space.
That led directly to my working at the NASA Ames Research Center when I graduated. Ames was opening a new Commercial Use of Space and Technology Utilization Office to make NASA research available for commercial uses. I spent seven years managing programs there before being recruited as Counsel for the House Subcommittee on Science, Space and Technology.
I was putting together hearings, crafting and passing bills and fighting amendments until one day I received a phone call. The caller said she was Sally Ride, and I said, "Yeah, right." After convincing me she really was the first American woman in space, she reassured me that she got that response all the time. Ride was leading the Clinton-Gore transition team on space, science and technology, and she invited me to join her. Working with her on the presidential transition was intense and rewarding. When our team had completed its work, I moved to the Senate Committee on Commerce, Science, and Transportation as Staff Counsel.
What is your favorite King Hall memory?
When Desmond Tutu came to campus during the anti-apartheid protests, it was very close to finals. The faculty actually rescheduled classes so we could participate in the protests—and they marched with us. It was amazing that they felt so strongly that students shouldn't be penalized for participating in something so important.
Who were your favorite King Hall professors?
Richard Wydick taught Antitrust Law. Robert Hillman taught Corporations and advised our Law Review note. Neither of them taught in areas that had much bearing on my future career, but it was the way they brought their subjects to life that was so interesting and significant.
Did you participate in student organizations?
Law Review kept me busy, but I did play softball and volleyball. Our King Hall volleyball team won the Grad-Staff-Faculty League championship.
Do you have any advice for current law students?
In my first year of law school, I couldn't see how to translate my legal education into a career I wanted. King Hall provided different opportunities—like the space law class and being able to write a Law Review note on space law. It was a great place to figure out what I wanted to do. It's not a cookie-cutter law school. It has all these different perspectives and possibilities. Take advantage of these opportunities to figure out how to leverage your legal education in a unique and satisfying way for you.
Why did you decide to make a gift to support student scholarships at King Hall?
I have been lucky to be able to use my King Hall education to pursue a career path of my choosing. I was moved to start a scholarship to help others who needed to figure out what they wanted to do. I wanted them to have less pressure from debt.
Anything else you'd like to add?
It's been great to come back as a member of the alumni board. The way the school has transformed is remarkable. I'm very proud to be a King Hall graduate. I want to help continue to give students opportunities to make great memories from their experiences at King Hall and pursue career paths that inspire them.