The Honorable Paul Igasaki, Class of 1979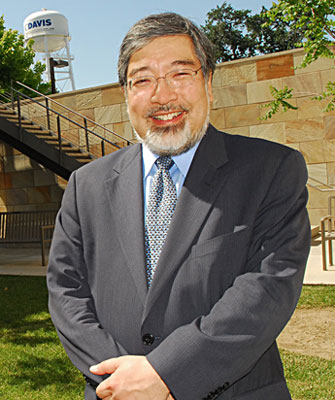 For the Honorable Paul Igasaki, Chairman and Chief Judge of the U.S. Department of Labor Administrative Review Board, the road to King Hall began with family history. His grandfather was one of the early Japanese American lawyers in the United States, and his parents were among the more than 100,000 Japanese Americans forced into internment camps during World War II.
"They were incarcerated, and they lost nearly everything they owned," said Igasaki, a member of the King Hall Class of 1979. "When I learned this, it changed how I saw the U.S. Constitution and the rights it promises, rights which were denied to Japanese Americans at that time. It taught me that those rights are not real unless you have the power to assert them, and that's why I went to law school."
A native of Chicago, Igasaki graduated from Northwestern University. Intrigued by the idea of attending law school in California because of his cultural and family roots there, he investigated UC Davis and was impressed by the large number of graduates doing public interest work and the possibility of programs offering opportunities to provide legal services to the poor. He enrolled, and King Hall turned out to be an excellent choice.
At King Hall, they have built a program that is even stronger than it was when I was there.
"The size of King Hall was right for me," he said. "It has a good number of students—enough so that they can offer a variety of courses and retain a pool of excellent faculty, but not so many that individual students get lost. You really get to know your professors and fellow students, and hopefully be inspired by them. The fact that Davis is a relatively small town helped me to focus on my studies, and, as a city boy, I could reward myself with trips to San Francisco and Sacramento."
Igasaki said that several classes made a big impression, including courses in criminal law, immigration law, and labor law, and the volunteer work he did providing legal services to low-income families in Sacramento was invaluable. "It involved some civil rights law, housing law, family law, a little bit of everything," he said. "That helped me decide to go into legal services for the poor initially."
Igasaki has had a distinguished career working to ensure access to justice for a wide range of under-served communities. Before coming to the Department of Labor, he served as deputy chief executive officer of Equal Justice Works, as executive director of the Rights Working Group, and as vice chair and acting chair of the U.S. Equal Employment Opportunity Commission. In addition, he served as executive director of the Asian Law Caucus in San Francisco, the first civil rights legal organization for the Asian Pacific American community, and helped to found the Asian American Justice Center in Washington, D.C., the Chicago Asian Pacific American Bar Association, and the National Asian Pacific American Bar Association. Currently, he oversees appeals of Labor Department decisions on a wide range of issues including immigration, environmental safety, whistleblower statutes, and financial impropriety laws.
Igasaki remains proud of his King Hall roots, and has returned to Davis several times as a speaker, most recently delivering the commencement address for the Class of 2010. He strongly endorses King Hall as an excellent choice for prospective students.
"At King Hall, they have built a program that is even stronger than it was when I was there," he said. "They have always had a high percentage of students interested in public interest work, and it has come to my attention that King Hall has gotten better and better at encouraging that commitment over the years. They have increased the diversity of the faculty and expanded the opportunities for clinical work. They have made dramatic improvements to the King Hall facilities, but while the new building is beautiful, it's really the people that make King Hall such an outstanding place."