Robert Hulse, Class of 2000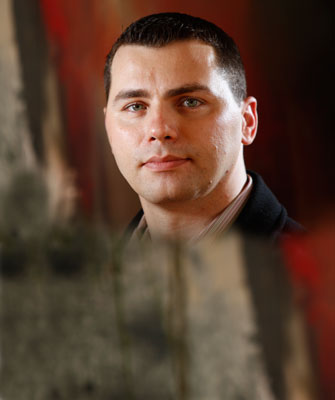 Even as a high school student, Robert Hulse knew he wanted to become a patent attorney and that a degree from UC Davis School of Law could help him realize his dream. Now, the King Hall graduate is practicing patent law as a partner in the Silicon Valley firm Fenwick & West, and he couldn't be happier with the choices he made.
"I've written patents on everything from nuclear fusion reactors to complex financial instruments to surgical devices used to cut the lens capsule of the eye," said Hulse. "It's impossible to get bored when you get to work on so many different kinds of things."
Hulse chose King Hall and patent law largely on the advice of his sister and a friend of hers, both of whom were King Hall students at the time. (Hulse's sister, Deborah Cussen, is a 1993 Law School graduate and a successful real estate attorney with Gibson, Dunn & Crutcher in San Francisco.) They thought that patent law might be a good fit for Hulse, who loved math and science but was also very interested in history and social sciences. He visited King Hall, sat in on a few classes, and decided to attend.
"The interesting thing was the classroom dynamic," he said. "The classes were small, people were very interested, and there was a lot of participation. It was exciting, and very different from the stereotypical idea of what law school would be like."
Hulse first attended Harvey Mudd College in Claremont, Calif., where he earned degrees in engineering and economics, then King Hall, where he was senior articles editor for the UC Davis Law Review. "The Law Review was very tough, but it was probably the best academic experience I had," said Hulse. "That's where I learned the critical writing skills that every attorney needs to succeed."
"The great thing about King Hall is that they teach the basics of law so well," Hulse added. "That's reflected in the bar passage rate, which was very high for my class, and it has really helped me in my practice. A lot of patent attorneys think they only need to understand patents or intellectual property law, but subjects like standing, jurisdiction, and contract rights come up every day."
Today, Hulse serves clients including Apple, Google, Facebook, Symantec, and other Silicon Valley companies, often meeting with company engineers to learn about innovative new technologies and plan strategies. "They tell me about how their business works, how the technology works, and the new ideas they have, and I use my legal experience and knowledge to translate their ideas into intellectual property rights that will be valuable to the business," said Hulse.
For Hulse, it's a thoroughly enjoyable process. "Every patent law attorney I interviewed with out of law school said this is the best job in the world, and that's how I feel about it," he said.