Daniel C. Girard, Class of 1984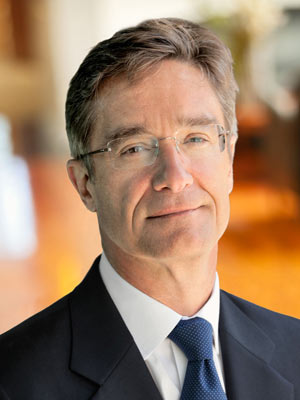 Daniel C. Girard is a 1984 graduate of King Hall and the founder and managing partner of Girard Gibbs LLP in San Francisco. He is ranked among the highest class of attorneys with an AV-Preeminent rating by Martindale Hubbell and is recognized by his peers and the judiciary as an expert on class actions and complex litigation. Recently, Girard was appointed by Chief Justice of the United States John G. Roberts to serve on the U.S. Judicial Conference Standing Committee on Rules of Practice and Procedure.
What did you do before coming to King Hall?
I was out of school for two years before going to law school. During that time, I worked at a real estate company in upstate New York where I sold and managed real estate. I also worked as a paralegal for several months to prepare for law school.
What is your favorite aspect of your current work?
Our firm represents clients in an extraordinary range of cases. In the past few years, I have served as a lead attorney in the Lehman Brothers securities litigation, as the lead attorney in a case against the Government of Guam, and counsel in Bethel, Alaska in an action on behalf of a largely native population in the Yukon Delta. I get to work on a diverse range of cases and issues, which is always challenging, and I'm still enjoying it!
How did you choose to found your own firm?
I started out in a big firm doing corporate securities and transactional work. I was looking for a change and answered an ad in the legal paper for an associate to work in a class action firm. I had a sense right away that litigation was a good fit and was fortunate to work with some very talented and experienced lawyers early on. After about 10 years of practice, I decided to start my own firm. I had stayed in touch with Professor Robert W. Hillman, and he counseled me through the transition and convinced me I could create my own firm. He's been a tremendous friend and advisor. In many ways, I owe it to him that I made the move to start a firm when I did.
Who was your favorite King Hall Professor?
That's difficult. Can I give you more than one? I've already mentioned Professor Hillman and his impact on my career, but I also have great memories of Property with Professor Susan French, Antitrust with Professor Richard Wydick, and Professor Floyd Feeney, who did a tremendous job teaching Criminal Procedure.
What was your favorite King Hall class and why?
I think the classes I previously mentioned were all some of my favorites. Professors Hillman, French, Wydick, and Feeney all made their classes intellectually challenging and fun. Having been out of school for a couple years, I was very excited to be in law school, so I didn't miss many classes. Their classes were particularly rewarding for the effort that they took to prepare for them and how they engaged us as students.
What class at King Hall served you well in your career choice?
As a litigator and class action specialist, the Civil Procedure class I took from Richard Delgado was foundational in many ways. Professor Delgado was a great teacher, and I credit him for opening my eyes to the importance of Civil Procedure, which has had a profound impact on my career. I was privileged to serve from 2004 to 2010 on the United States Judicial Conference Advisory Committee on Civil Rules, and I currently serve on the Standing Committee on Rules of Practice and Procedure.
What is your favorite King Hall memory?
I attended a lecture on International Law by the late Homer Angelo in the fall of my third year in law school. At the end of the lecture, he offered to help arrange internships for any student who had an interest in a semester abroad.  He arranged an interview for me with the legal advisor to the International Energy Agency. I spent my last semester in Paris and had the time of my life!
Do you have any advice for current law students?
Use your time in law school to find out about specific areas of law and types of practice, and try to get a sense of fit. Additionally, since King Hall provides such a supportive environment, law school is a place to build personal and professional relationships. Your professors can serve as a source of advice and guidance, and your classmates will go on to hold positions in all sorts of areas from state and federal government to regulatory agencies and private companies. These relationships will serve you well in your careers.