Judge Ramona J. Garrett, Class of 1980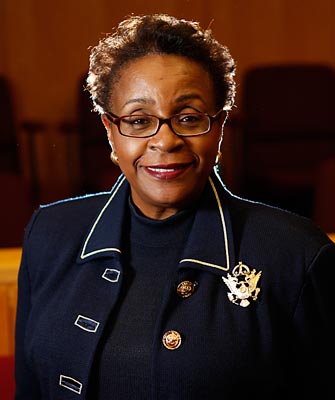 Ramona Garrett '80 has come a long way since the days when she and her older sister had to share a single coat in the snow. As Presiding Judge of the Solano County Superior Court (2008-2009), she can look back on a spectacular career in which she overcame the challenges of being an unwed teen mother to become the first female and first African American superior court judge in Solano County, and she's grateful for the role UC Davis School of Law played in providing the training she needed.
"UC Davis School of Law was the critical component of my professional success," said Judge Garrett. "It was a small, nurturing school, but academically rigorous, and it provided me with a solid legal foundation."
Garrett started her education in New Mexico at a time when her family was struggling to get by, and she and her sister had to share a coat on snowy days. Because her father was in the Air Force, the family moved often, living in Tripoli, Libya; Okinawa, Japan; Texas; and Little Rock, Arkansas, as she grew up. The experience broadened her perspectives, Garrett said, and allowed her to attend excellent military schools, so that when her father retired and the family of six children settled in Fairfield, she was academically advanced.
UC Davis School of Law was the critical component of my professional success. It was a small, nurturing school, but academically rigorous, and it provided me with a solid legal foundation.
Ramona Garrett became pregnant and had to leave high school in January of her senior year, but had already accrued enough credits to graduate. She entered Santa Clara University at age 18 as a single mother with a 3-month-old daughter, surviving on welfare, scholarships, and loans, and somehow managed to juggle motherhood and student life well enough to earn her Bachelor's degree in Philosophy four years later in 1974. After graduation she found work as a salesperson for a cable television company in Fairfield. The job was enough to get her off welfare, but she began to realize that she wanted something more. Because she was the only member of her family to have gone to college, relatives approached her with questions about legal problems, and although she couldn't help them, she realized she was interested in law and decided to visit King Hall.
"I immediately felt this sense of kinship, the warmth of the people there," she said. "I liked the school, just the way it felt. I remember visiting the law library and immediately falling in love with the law."
Garrett thoroughly enjoyed attending UC Davis School of Law, where she was president of the Black Law Students' Association during her second year. "There was a family atmosphere amongst the students," she said. "There was some competition, but we were all supportive of each other. We had close relationships with faculty. The courses were very challenging, but there was an enveloping sense of support from everyone there, so I was very happy."
Garrett passed the bar in 1980 and joined a Vallejo civil law firm. She then worked as a prosecutor in Contra Costa County before joining the Solano County District Attorney's Office in 1984. It was there, several months later, that she was given responsibility for the case that became one of her most significant professional accomplishments: People v. Stanley Verketis, in which a legless Vietnam veteran fatally shot the first Fairfield Police Officer ever killed in the line of duty. The case drew intense media coverage from all over the state and became an "all-consuming experience" for Garrett, who often worked seven days per week for months at a time for more three and one-half years.
"It was terrifying," recalled Judge Garrett. "I had only been out of law school for four years. I had only done one murder case before that one. It was the challenge of a lifetime, and the media coverage was like a tsunami."
After two jury trials (the first of which had resulted in a deadlocked jury), Garrett ultimately secured a conviction for first-degree murder with special circumstances - a verdict that was later affirmed in the California Court of Appeals. It was an impressive, high-profile victory, and set the stage for Garrett's appointment as a judge. After six years as Chief Deputy District Attorney (a position to which she had been appointed while litigating the Verketis case), Garrett was chosen for the Northern Solano Municipal Court bench by Governor Pete Wilson in 1992 and became a Superior Court Judge through court consolidation in 1997. In 1992, the UC Davis Cal Aggie Alumni Association awarded her the Citation for Excellence award.
As a judge, she worked to establish the Solano County Drug Court, which launched in 1996. "We started out with people who had been drug users for many years, and required them to come to court frequently for drug testing and other contacts, and had a graduation after the first year," she said. "There was hardly a dry eye at the ceremony. You had people who had been drug users for many years, who were now clean and sober, getting up and telling their stories with their children and husbands and wives present."
In September of 2007, Garrett was selected by her colleagues to be the Presiding Judge of Solano County Superior Court for 2008 - 2009. As Presiding Judge, she was responsible for providing leadership and supervision to a court consisting of 20 judges, three commissioners, and 278 court employees.
Most recently, Garrett has discovered an interest in international law. In 2008, she was one of 22 American judges chosen to participate in the week-long Sir Richard May Seminar on International Law and International Courts in The Hague, the Netherlands, and also was one of eight U.S. judges to take part in the North American Judicial Colloquium on International Law at Brandeis University, Massachusetts.
As a donor to UC Davis School of Law, Garrett continues to feel grateful to the Law School for providing the basis for her success, and encourages prospective students to strongly consider King Hall. "If you're looking for a good legal education in a nurturing environment, you can't beat King Hall."