Robin Finch, Class of 2001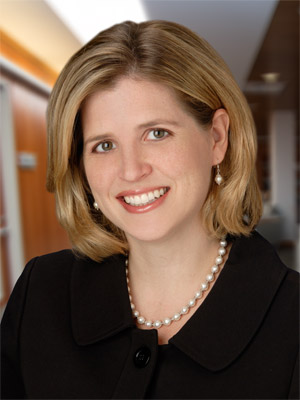 Robin Finch '01 is a partner at Greenberg Glusker in Los Angeles, where she specializes in real estate transactional work. Finch represents clients in multimillion-dollar commercial and residential projects.
What do you enjoy about your current work?
I enjoy working with entrepreneurs to build and develop projects. It's always fresh and new. Every issue is different, and it's good to see the fruits of my labor in a building that's been constructed, developed, leased or sold.
What did you do after law school, and how did that lead into your current work?
I've worked here since I was a clerk my 2L summer. I came back after I took the bar.
What did you do before coming to King Hall as a student?
I took a year off after college. I continued with my college job managing a clothing boutique. I knew I was going to continue my education, but I wanted to take a short respite.
What is your favorite King Hall memory?
I met my husband Brent at King Hall. He was two years ahead of me. So that's my favorite memory, but otherwise I remember the people and the environment. Everybody was friendly and energized. It was a great place to work hard and generally a great place to be.
What class at King Hall served you well in your career choice?
Partnership Tax with Professor Daniel Simmons.
Who was your favorite King Hall professor?
Daniel Simmons or Joel Dobris or Edward Imwinkelried. Professor Dobris is such a quirky guy. He spent an entire semester teaching the rule against perpetuities. Going into so much detail helped teach us a way to think. We had stacks of flashcards with diagrams.
For Professor Imwinkelried's class, we had binders with photocopies instead of the casebook. His use of the Socratic Method terrified all of us, but it taught us a way to think too. I appreciate that.
Do you have any advice for current law students?
Study hard your first year. The first year is most important in terms of getting a job through on-campus interviews. Don't do too many things. Grades are critically important to getting a job at a major law firm. Extra-curricular activities may get in the way of that.
How have you stayed involved with King Hall?
I come back every couple of years for on-campus interviews. Our firm also sometimes hosts new student receptions for the Los Angeles area, so I help orchestrate that. We just hosted a reception for the new UC Davis chancellor at our firm.
Is there anything else you would like to add?
I love King Hall. Among my colleagues, it's the UC Davis graduates who always speak most highly of their law school experience. I enjoyed the small town and the small-ish school. It was tough, but nurturing. I had a great experience there, and I'm lucky to have had it.