Eduardo Díaz, Class of 1976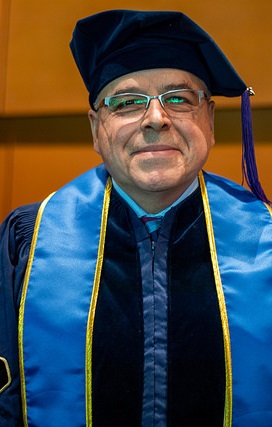 Eduardo Díaz '75-76 directs the Smithsonian Latino Center in Washington, D.C. He works to increase and diversify pan-institutional Latino presence at the Smithsonian by supporting research, exhibitions, collections, public and educational programs, online content, publications, and leadership and professional development programs for emerging Latina and Latino scholars and museum professionals.

You have an unusual career for a J.D. How did you end up at the Smithsonian?
In my second year of law school, I started to lose interest in practicing law. I was in charge of recruiting for the Chicano Law Students (now La Raza). I recruited students to the UC Davis School of Law by talking up the school on public affairs programs at television and radio stations in the Sacramento region and Bay Area. In the process, I got into the media, and thought that work in this more cultural arena was more suited to my interests and ability in serving the Latino community.
I wanted to get into acting in some way. As I observed Moot Court classes, I thought it was basically theater. The actors are lawyers trying to convince an audience. You have to be a pretty good actor to win the case. In my third year, I auditioned for a role in a Chicano play at Sacramento State. It was a Christmas play written by a playwright from El Teatro Campesino, the United Farm Workers' theater group. I enjoyed this experience very much. I was definitely moving away from being a lawyer.
In the summer between my second and third year, I clerked for the Appellate Division of the Public Defender's Office in Santa Fe, NM. I had too much invested to leave law school and was getting a great education at Davis, so I decided to complete my degree. The Public Defender's Office offered me a job after I graduated. However, I chose instead to take a job at the ABC affiliate in Albuquerque as a cultural reporter and public affairs producer.
Over the years, I moved through different jobs in the cultural sector. I was the director of Cultural Affairs for the City of San Antonio. I co-founded the International Accordion Festival in San Antonio. I managed a private consulting practice. I was executive director of the National Hispanic Cultural Center in Albuquerque. Then I was recruited by the Smithsonian, where I've been for ten years.
Do you use your law degree?
When people learn that I have a law degree they'll sometimes say, "Don't you feel like you wasted your time?" I didn't waste anything. I don't remember the particularities of the law, but I know how to read, write, research, analyze and advocate. Law school really helped me to take massive amounts of material and break it down/analyze it into chewable bites. Those are the five key skills I honed in law school. They have served me well across the board throughout these more than 35 years in the cultural field. I got a really, really good education at UC Davis. I'm very thankful for it.
Right now, I'm reviewing gift agreements for a new Latino gallery at the Smithsonian. My education helps me a lot. I have a good eye for these contracts. We have great lawyers at the Smithsonian, and I know that they appreciate having an extra set of eyes. It comes in handy.
With a law school education, I have a deeper appreciation and understanding of the legal principles that undergird political and public policy issues. Equal protection, accessibility, equity, diversity—those are foundational principles with constitutional roots.
What do you enjoy about your job?
First, I am able to enrich people's lives. I am able to educate. So much of what I do at the Smithsonian is telling stories about the multiple roles that Latinas and Latinos have played in building this country and shaping our national culture. Unfortunately, we live in a time where our rootedness, our historically foundational roles are being challenged, creating an atmosphere in which somehow the Latino community is not deserving of having these important stories told. It's critical for people to get to really know us. No, we didn't get here yesterday. We've been contributing all along.
Sixty-five percent of Latino Americans were born here and thirty-five percent are immigrants, and many of them are now citizens. I enjoy bringing the many facets of Latino contributions to life. The Smithsonian, the Nation's Museum, is the perfect place to do that, with its 19 museums and nine research centers, annual folklife festival and recording label.
Second is bringing young Latinas and Latinos into the museum, into this wonderful field. We have a summer leadership development program for college-bound high school students. We douse them in the Smithsonian. They meet scientists, curators, astronauts, artists and others. They then intern at another museum, typically in their home community. They come from many cities around the country, including Puerto Rico. We're very proud of our ninety-seven percent college graduation rate. They come back for a post-graduate seminar where we help them with resume writing, practice job interviews and even stage receptions where they can have experience schmoozing. Most have gone on to become successful professionals, while others continue in graduate school.
We also have the Latino Museum Studies Program for graduate students. This summer program is designed to introduce them to the potential of museum professions. While with us they complete practicums around the Smithsonian on a variety of ongoing Latino projects where they work under the supervision of curators, educators, conservators, digital content developers, and archivists.
Bringing people along—contributing to their leadership and professional development—is very fulfilling to me. As I come closer to ending my career, I have a real urge to continue to bring along young people into the field.
I'm also working on a big project: establishing a Latino Gallery at the National Museum of American History. Efforts at establishing a National Latino museum have stalled in Congress, and even if a bill passes, it will be many years before a museum opens its doors. So, I've set my sights on a dedicated space at the History museum, recognizing that we'll have the potential of reaching over three million visitors annually. My time at the Smithsonian is relatively short, and I want to accomplish this before I retire.
You walked at this year's King Hall Commencement. What is the story behind that?
In my second year, Professor Edward Barrett's Con Law class was kicking my butt! Professor Barrett called me into his office and told me, "We have a problem here, Mr. Díaz. You really should be doing better." I finished the class but realized I needed to take a break. I took a quarter off to clear my head. That meant I couldn't walk with my class. I graduated in March 1976. There was no ceremony. They mailed me my diploma.
I always felt I had cheated myself. Walking was on my bucket list. I felt a real allegiance to UC Davis. I got a great education and had a good experience, but I wanted to top it off by walking at a commencement.
When I was raising my two daughters, I wasn't in a position to support UC Davis financially. Now one of them is a professor at UC Santa Bárbara, and the other is an architectural designer with Overland Partners in San Antonio. Now, in addition to building a small art collection, I can afford to make an annual contribution to the La Raza Law Students Association. In this vein, let me also say that I appreciated personal visits by alumni staff from King Hall; it was a really nice touch.
When Kevin Johnson became dean, I started hearing him regularly on NPR, the PBS News Hour; I saw him quoted in major publications, usually on issues related to immigration. It's no mystery why UC Davis is the number one school in immigration law, and why Kevin Johnson is the go-to guy on the topic. That gave me an extra good feeling in my heart for UC Davis. I reached out to him to congratulate him on what he does for the law school and to represent our community. His is an important, eloquent and nationally significant voice.
He wrote me a really nice note, and we kept up the relationship. He and five other faculty came out to D.C. in November 2017 to recruit new professors. A King Hall alum had a reception at his law firm in Georgetown while they were here, and I attended.
The next day we were opening "Tamayo: The New York Years" at the Smithsonian American Art Museum, featuring the work produced by noted Mexican artist Rufino Tamayo during this time in New York. I will add that the exhibition curator was from the Latino Curatorial Initiative, another of our programs to build our cohort of Latina and Latino curators to ensure First Voice representation in Smithsonian museums. I invited Kevin and the faculty to come and be my guests. They came and had a blast—viewing wonderful artwork, sipping wine, and hobnobbing with the Mexican Ambassadors and others—a welcome relief from a long day of interviewing potential UC Davis law faculty.  
As I said, I had been wanting to walk since 1976. I waited until the wine had relaxed Kevin a bit, and then decided to pop the question. "I want to walk," I told Kevin. He looked at me a little perplexed. "I promise to behave," I added.
Kevin said, "I think we can make that work." Upon his return to Davis, he asked Kelley Weiss and others from External Relations set it up. Let me add that Kelley and the staff did a wonderful job in making it happen in a really special way. I'm very grateful to them.
I was super excited. I needed help putting on the regalia; having my professor daughter there came in handy. It was also wonderful to put on my Chicano Law Students stole. I was very happy that my sister was also able to come up from Los Angeles for the ceremony, but saddened that my younger daughter had to stay in San Antonio to prep for another architectural licensing exam, the equivalent of the bar exam for practicing architects.
I soaked in every moment of the 2018 commencement, and again want express my sincerest gratitude to Dean Johnson, Kelley Weiss, Delayna Fitzgerald, Jin Kim, José Pérez and all the others who made this one of the most memorable events of my life, and for allowing me to check it off the damn bucket list!
What is your favorite King Hall memory?
The Chicano Law Students were a really tight group. We played basketball and baseball together. We studied together. We shared meals together. We picked each other up—because law school is rough. Instead of one memory, it's an aggregation of memories of being with my classmates. As they say, it takes a village.
I have fond memories of participating in the secondary boycotts. We picketed at Safeway and at liquor stores to boycott lettuce, grapes and Gallo Wines. We welcomed César Chávez to King Hall. We were very active in a social and political way. We were doing what we needed to do for our community. I also interpreted for monolingual defendants in Yolo County courtrooms, playing a small part to ensure justice served.
I also have memories of taking the bus to Berkeley in the morning. It was an old-fashioned bus that looked like a Quonset hut on wheels. I would have a real croissant and really great coffee, and then go off to study at Boalt Hall (as it was known then) before coming back in the afternoon. It was a good way to get out of Dodge once in awhile.
In Davis, I used to run through the fields and olive groves to keep in shape and blow off some steam. While I didn't know it at the time, these long runs helped prepare me to run nine marathons. And, I enjoyed being close to Sacramento. I think I have spent too much time in Sacramento for my own good!
Do you have any advice for current law students?
Keep your eyes on the prize, whatever the prize is. That's funny coming from me, because I kind of went rogue.
In today's world, students don't have the freedom to do what I did. When I started in 1972, tuition was a pittance compared to what it is now, which meant that you could experiment a little more, take a few more risks.
When people tell me they are thinking about going to law school, I ask them to ask themselves hard questions: Do you love the law and what it can do? Do you understand the commitment and the profession that await?
Is there anything else you would like to add?
In a circuitous sort of way my whole experience has endeared me to UC Davis Law. I am very proud of the values reflected in the faculty and students of King Hall and their work, and of the leadership that Dean Johnson engenders. And I'm very grateful for the impact our great law school has had on my life. I would not be where I am at without my experience at Davis.