Dennis M. Cota, Class of 1986
Judge Dennis M. Cota '86 was appointed as a magistrate judge of the United States District Court for the Eastern District of California in September 2018. Previously, he was a founding partner in Cota Cole & Huber LLP, specializing in public law. Before founding his firm, Judge Cota was managing partner first for Best Best & Krieger LLP's Ontario office, and then for its Sacramento office.
For several years, Judge Cota has taught Trial Practice and Advanced Trial Practice at King Hall and has coached nationally recognized Trial Practice Competition teams. He is King Hall's Cota Competition's namesake and helped found the Dr. Martin Luther King, Jr. Competition.
Are you enjoying being a judge? What do you like most about it?
I very much enjoy it. It came at the conclusion of over thirty years of practice. What I enjoy most is the dedication to finding a just result. In practice, the focus is on the result desired by the client. On the bench, the focus is no longer on one side of the issue. Instead, it's on how it should turn out, considering the law, policy, and overarching justice. That's why I went to King Hall in the first place. Now that focus is my day-to-day activity. I love that. I'm unconstrained by billable hours and the client's objectives. The right result, consistent with law, policy, and justice, is what's obtained.
What have some of the challenges been?
It's been a learning curve. I spent my entire career practicing on the civil side. I never did criminal cases. The court has wonderful resources training me up, but it's been an intense learning curve. I've had to remember what I learned at King Hall in Criminal Law and Criminal Procedure. Fortunately, I have a tremendous chamber staff, including the clerks and courtroom deputies.
Why did you first come to King Hall?
It was one of those mysteries of life. I was an undergrad at UCLA, applying to law schools in spring semester of my last year. My wife and I just celebrated 41 years of marriage, but then we were newlyweds, living in a little apartment in West L.A.
One rainy, cold night in February, we heard someone knocking on our door. We found a rain-soaked UPS man with an application for King Hall. Some wonderful person had sent me an application. I never found out who it was. I filled it out and sent it in. My wife had grown up in Northern California, so she was excited about the possibility of moving to Davis.
When I was admitted, I received a notice that I had to accept or reject within two weeks. This was on the eve of finals at UCLA. I had no opportunity to visit Davis before the deadline. I had never seen the campus and didn't know anyone who had attended. As it all turned out, it was a wonderful alignment of the stars, truly the best "fork in the road" event in my life.
I was pleasantly surprised to learn that King Hall was high-ranked and had prestigious alumni. I didn't know any of this because I had focused on schools in Southern California and on the East Coast. The fit was perfect. I fell in love with the town, the King Hall community, everything about it.
After we had spent the last of our money getting an apartment in Davis, the acceptance from Georgetown arrived. My wife and I looked at each other and said, "We're going to Davis." I never regretted it.
Why did you come back?
In my third year of law school, a new contracts and trial practice professor from Washington University in Missouri joined the King Hall faculty. Professor Edward Imwinkelried inspired me in his trial practice class, and he encouraged me to compete. That changed my course. I had planned to go into politics, using my law degree as background. After that, I wanted to litigate.
In 2001, my firm opened a Sacramento office and made me managing partner. I visited Professor Imwinkelried, just to catch up with him. He invited me to join King Hall as an adjunct coaching the Trial Practice 1 students. Later, about four years ago when he retired, he asked me to take over the Trial Practice class. So then I was both lecturing and coaching the team.
Do you have any good stories from coaching trial practice?
It was such a delight watching the students dedicate their time, talent and energy to learning this craft. Some of the great moments include the first year I took a group to Alabama. The Mockingbird Challenge was new then. It was based in Montgomery at Faulkner University and took its name from To Kill a Mockingbird. I took four very talented second-year students I had started working with when they were first-years in the Carr Competition.
I remember pulling into the parking lot with the radio cranked up. They jumped out of the rental car, dancing and singing along to "Play that Funky Music." They went on to win the entire competition.
They were so elated. Now that they were victorious in their first national championship, they wanted to celebrate. The competition ended at 8:00 or 9:00 at night. Montgomery is a beautiful, historic town, but at 9:00 p.m. everything was closed. We walked past the original church where Martin Luther King Jr. had his ministry. We walked past Rosa Parks' park bench.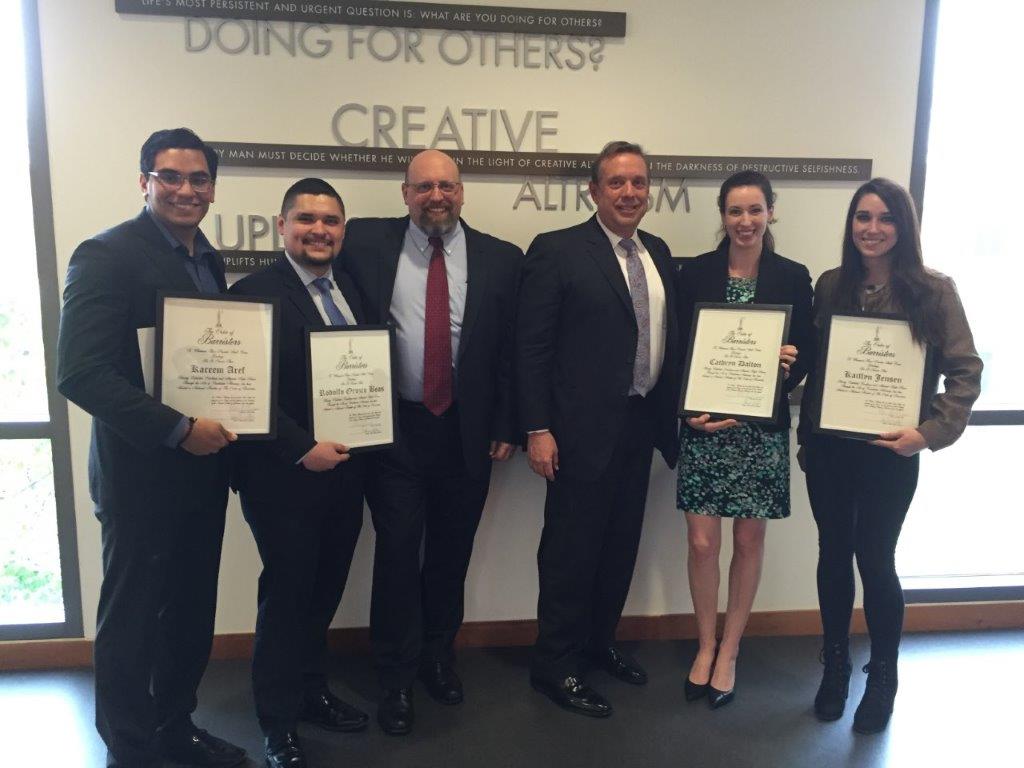 They ended up jumping in the fountain in Montgomery's square at 10:00 at night. They were stomping and splashing like little kids. We laughed and took pictures. It was a victory not only of the competition, but of the program itself. They had achieved something that set the path for their careers. It felt like something special had happened. It was a wild moment. The trophy we brought home is still in the case outside of 1301.
That group was so enthused about Trial Practice that it was a turning point in the program. They came to me with the idea of creating a first-year competition. It would introduce new students with an abbreviated program. They volunteered to put on a training. At first, the administration was reluctant. Understandably, they try to limit what first-year students are doing outside of class. They agreed, on the condition that it would only take one week of practice, with the competition on the weekend. The competition is now in its fourth year. When we started the competition, I was in private practice and had the resources to present each of the winners of the competition with a small scholarship prize as an incentive to participate. Now the competition includes more than 40 student advocates, and while a cash incentive is no longer needed, we still present awards to the winners, including the Edward Imwinkelried Award for Best Advocate.
(Photo Above: Mockingbird Challenge champions Kareem Aref '17, Rodolfo Orozco Beas '17, Cathryn Dalton '17, and Kaitlyn Jensen '17 with Trial Practice instructor Ron Scholar and Judge Cota)