Joanna Cuevas Ingram, Class of 2012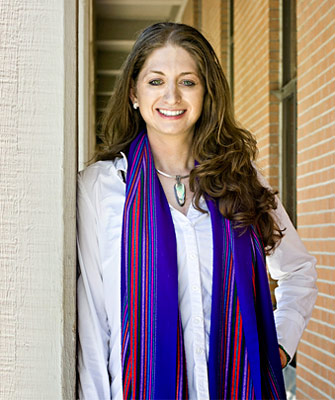 Hometown: Oakland, California
Undergraduate degree: Occidental College, Art History and Visual Arts
Joanna Cuevas Ingram enrolled at King Hall because she wanted her law degree to provide the tools she needed to be the best advocate for civil rights and social justice she could be. Today, she is an Equal Justice Works Fellow and Attorney at the Lawyers' Committee for Civil Rights in San Francisco, using the skills she learned at UC Davis School of Law to clarify, strengthen, and increase state and federal voting rights protections for underserved communities.
"I'm really honored to be doing this work, and I don't think I would be doing it on this level without having had the breadth and depth of experience that I received at UC Davis," she said.
UC Davis stood out to me as a law school that was focused on the public interest, public service, and social justice.
Cuevas Ingram became interested in law as a potential means to better serve the diverse communities she experienced growing up in Oakland, California. She made the final decision to go to law school while working with low-income breast cancer survivors at the Women's Cancer Resource Center. Many of her clients experienced difficulties with their immigration status that compromised their ability to get care and services, and Cuevas Ingram realized that in order to help them, she needed a nuanced understanding of immigration law. Impressed by King Hall's academic excellence and commitment to public service, she enrolled at UC Davis School of Law.
"UC Davis stood out to me as a law school that was focused on the public interest, public service, and social justice," she said.
At King Hall, she worked with the Immigration Law Clinic, where she represented clients in immigration proceedings and participated in naturalization workshops serving immigrant communities in Sacramento and around the Central Valley. The Clinic also gave her the opportunity to work on high-level litigation, including a petition for certiorari filed with the U.S. Supreme Court, and other unique experiences that enabled her to advocate for human rights as a UC Human Rights Fellow at the Center for Constitutional Rights in New York. Cuevas Ingram also served as Editor-in-Chief of the UC Davis Journal of International Law & Policy, and as a research assistant for Dean Kevin R. Johnson, who encouraged her to write her own paper, "The Color of Change: Voting Rights in the 21st Century and the California Voting Rights Act," which was published in the Harvard Latino Law Review in 2012.
As a third-year law student, Cuevas Ingram was selected to become a postgraduate Equal Justice Works Fellow with the Lawyers' Committee for Civil Rights of the San Francisco Bay Area, where she now works on impact litigation, scholarly study and clarification of the law, and community engagement. She has also educated legal professionals on voting rights as coordinator of a local Election Protection Coalition Field Program that trained more than 90 private bar attorneys for pro bono service in voting rights protection prior to the November 2012 election.
"I feel like Davis truly gave me all the tools that I needed to succeed," she said. "The public service mission of the school, the intellectual rigor, and the sense of camaraderie and support I felt there all helped me to pursue a career working to push the law forward for civil rights and social justice."